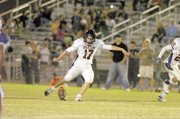 West Springfield High School senior kicker John McConnell might play one of the most overlooked positions in football, but on Oct. 9 during the Spartans' 28-16 loss to South County Secondary School, he was one of the Spartans' top performers.
When the Spartans failed to gather enough momentum to drive into the Stallions' red zone, McConnell walked onto the field to attempt a 42-yard field goal.
It helped that gust of wind was at his back, but the raucous Homecoming crowd and the fact that his team badly needed three points and would give the Stallions the ball at near midfield if he missed, didn't make the kick any easier.
Taking a moment to focus on the task at hand, McConnell waited for the ball to be hiked and then gracefully kicked it 42 yards down the center of the field goal posts.
The length of the kick and poise McConnell showed was impressive, but the 42-yard kick wasn't even his longest this season.
"I made a 45-yarder against T.C. Williams last week and those three points ended up being the game-winning points," McConnell said. "During practice, I can make them from up to 55 yards out."
McConnell, who has been a kicker for eight years, accounted for 10 of the Spartans 16 points against South County with two 23-yard field goals, his 42-yard field goal and an extra point.
Despite the hostile conditions at South County and the pressure that comes with making field goals, McConnell said he is rarely rattled by the perfection his job requires.
"I've done this so many times that it becomes second nature," he said. "You just don't worry about it after a while."
McConnell's strong kicking leg during the South County game earned him high praise from West Springfield Head Coach J.T. Biddison.
"He does a great job," Biddison said. "He had the wind in his favor, so he could have made it from 10 yards farther if needed to."
It also helped that former West Virginia University kicker Paul Woodside serves as a personal coach for McConnell on the sidelines.
"I don't know what I'd do without him," McConnell said. "He's brought me so far."
Woodside, a kicking coach at West Springfield for nine years, has helped develop the school's kickers.
One of Woodside's former pupils, Tyler Bitancurt, is now the starting kicker at West Virginia University.
Woodside said he sees potential in McConnell as a college kicker as well.
"He's just awesome," Woodside said. "He understands his role. He's an extremely hard worker and a straight A student. He wants to finish out the year and go off to play college ball."
McConnell and Woodside spent much of their downtime on the sidelines during the South County game discussing and working on kicking mechanics.
Whenever McConnell had a question or needed guidance, Woodside was there to help him, such as when McConnell was unsure of how to set up an onside kick late in the fourth quarter.
McConnell's success stands out not just because he can boot in kicks from 45 yards, but also because some schools overlook the kicking element of football in favor of throwing on fourth down.
"Coaches don't always have the time during the week to work on special teams because they are only allowed [to work with the kids] for a certain number of hours," Woodside said. "They don't have time to contribute [to kicking] so it gets overlooked."
The Spartans' loss dropped their record to 3-3 on the season. The team's Homecoming game is against Annandale High School (3-3) on Oct. 16.