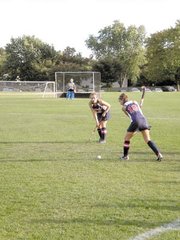 Before most sporting events, it's not uncommon for local private schools to say a prayer before taking the field. Before facing St. Stephens & St. Agnes Upper School on Oct. 8, the W.T. Woodson High School team recited a simple, candid poem about field hockey as if it were a prayer.
"Ever since I was a freshmen, the varsity team has [recited a poem before games]," said senior forward Shelly Montgomery. "I don't really know when the tradition started but now we do it before every game."
The poem discusses the virtues of playing hard, playing safe and keeping spirits high, but Montgomery said it also serves as a good luck charm and motivator.
"As one of the captains, it's my responsibility to pump the team up, so we do that with that poem," she said.
Although the Cavaliers might credit the poem for giving them some luck, the team's 3-2 victory over the historically strong St. Stephens & St. Agnes field hockey team was enough to convince onlookers that skill, not luck, was a major factor in the team's success.
But even after dominating the first half and surviving a late surge from the Saints in the second half, Montgomery remained superstitious.
"[St. Stephens & St. Agnes] is an awesome team and has had such a great record and reputation," she said. "But recently, we've been getting sick [with the flu] and we were hoping we could have some luck before the game that everyone got back healthy."
Regardless of whether the Cavaliers believe it was luck or skill that propelled them to victory, the team did display impressive offensive ability on penalty corner situations.
All three Woodson goals were scored from the penalty corner strokes.
Senior Emily Patterson scored the Cavaliers' first goal of the game, and her first of the season, and Shelly Montgomery provided Woodson's third goal early in the second half.
Scoring three goals off of penalty corners didn't happen by chance. Woodson Head Coach Becky Preston said penalty corners have become a major focus for the team.
"We focus a lot on [penalty corners], because, as the season progresses, we know that we are going to get less opportunities in the shooting circle [to score]," Preston said. "When we get to the shooting circle, we talk about how we have to execute."
Although all three goals came from scripted plays, the goal that dazzled players and parents on both teams was junior Casey Dexter's impossible shot late in the first half.
From a corner situation, the ball was inbounded to Shelly Montgomery who then passed it to Marie Whitehead.
Whitehead hesitated for a moment before passing it to Dexter who then shot from a low-angle and put the ball in the top corner of the net.
Further adding to the spectacle of Dexter's goal was that the play was improvised on the fly.
"It's one of our plays, but [Whitehead] usually shoots it," Dexter said. "Her shot was blocked so she just passed it to me and I shot it in."
Dexter's highlight-reel goal was the Cavaliers' second of the day and the surprising nature of that earned her a new nickname, "the assassin."
"I've never been called that before, but I think it's because I'm not that loud and I'm typically quiet [off the field]," Dexter said. "But on the field, I'm louder [with my play]."
The win improved Woodson to 14-1 on the season and came at a crucial time. Patriot District tournament play begins next week, and Preston said scheduling St. Stephens & St. Agnes wasn't just to fill out their season schedule.
"I thought that we matched up well against [St. Stephens & St. Agnes]," Preston said. "They give us a different look and it's fun for the girls to play other teams. We knew they would give us a good game and it mentally physically prepares us for [the Patriot District tournament]."