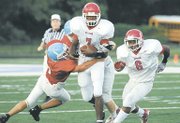 Joe Hargrove on Tuesday walked up a flight of stairs and onto the football field at Parker-Gray Stadium — a trip he's made numerous times before. But this time was different. There was a sense of excitement in the air.
Dressed in full pads and wearing a thick layer of protection around the cast on his right forearm, Hargrove skipped anxiously as he approached the 50-yard line on the home side of the field. It took awhile to get his cast wrapped in the training room, so most of his T.C. Williams teammates were already stretching before practice. As Hargrove passed by, nearly every Titan warming up on the field turned his attention to the 6-foot-3 senior quarterback. Hargrove then picked up a football, let out a shout of approval and started his warm-up lap around the field.
He's back.
One day after being medically cleared for game action, Hargrove practiced in full pads for the first time since fracturing his right, non-throwing wrist Aug. 27 during a scrimmage against Centreville. The cast and protective padding on his right forearm are bulky and stretch down to his hand, but Hargrove said he can catch the ball better than he anticipated — important when taking a shotgun snap — and he tried not to pay attention to it.
"It felt like I can use my fingers [on my right hand]," Hargrove said. "I try not to pay any mind to it because I know if I think about it, it's going to throw me off my game."
Hargrove is out of football shape after missing nearly two months and said he felt rusty. But overall, he said he "felt excited coming out here with pads on. … It feels good to be back."
Hargrove proved himself as the team's top quarterback during offseason competition for the starting job. With a strong arm and confident demeanor, Hargrove figured to be the catalyst behind many high-scoring performances from a Titans spread offense loaded with speedy playmakers.
But things changed when he fractured his wrist. Hargrove missed the teams' first seven games, during which the Titans went 3-4. While the defense kept T.C. Williams in nearly every game, the offense struggled to score points and got minimal production from the quarterback position. Three times this season the Titans have been held to 15 or fewer points.
With three games remaining in the regular season, Hargrove is hoping to have an impact capable of pushing T.C. Williams into the playoffs.
"I feel as if my team won me three games, so I've got to win them three," he said. "It's like, hey, they scratch my back, I've got to scratch theirs."
T.C. Williams head coach Dennis Randolph would not commit to what kind of role Hargrove would play Saturday against West Potomac, other than saying the left-hander would likely see playing time. At least four Titans have played quarterback this season, with junior Doug Murphy taking the majority of snaps during the last three games.
Randolph said Hargrove needs to focus, and warned it takes time for an athlete to return to form, especially at quarterback.
"He looked really rusty," Randolph said of Hargrove's performance at practice Tuesday. "He's trying to do too much. His timing is off and he's trying to throw the ball deep every time. It's going to take him awhile to get back. He needs to stay focused, which he's not — he's really excited about playing. We're going to have to see how things go.
"… Look at [Philadelphia Eagles quarterback] Michael Vick, who's one of the top athletes in the world. He ain't playing. He was away from the game a long time. Joe's been away and he's certainly not Michael Vick. He's just got to get back in there and get back to where he was when he got hurt, because he was playing very well."
Vick missed two NFL seasons while in prison for involvement in illegal dog fighting.
<b>Taylor OK</b>
Whoever plays quarterback for the Titans should have speedster Cortez Taylor as an available weapon. Taylor sprained the AC joint in his left shoulder during a between-the-tackles running play Saturday against Woodson, but both he and Randolph said the senior will play against West Potomac.
"Thirty-four lead … lights out," Taylor said of the play he was injured on and the hit he received. "I can't even remember what happened. I just felt a pain."
With Hargrove's potential lift to the passing game, Taylor could be moved from running back to his original position of receiver.
"We're going to get the ball in Cortez's hands as many times as we can," Randolph said, "in as many different ways as we can."
<b>Defense Strong, Again</b>
T.C. Williams lost to Woodson, 20-6, on Saturday, but the defense played well, holding standout quarterback Connor Reilly without a touchdown pass.
Titans linebacker Damien Benton finished with 17 tackles, one sack, one forced fumble and one fumble recovery. Linebacker Tevin Isley and defensive lineman Deontre Sanders each had 11 tackles. Linebacker Chelo Abbe had nine tackles and two fumble recoveries, and safety Israel Richardson finished with eight tackles and one fumble recovery. Defensive lineman Joe Massaquoi had two sacks.
T.C. Williams defensive coordinator Mike Gamble said the Titans defense is always looking to make big plays.
"[If] we get a chance to score, that's what we're trying to do," he said. "We're not just about stopping other teams. We want to create scoring chances ourselves."