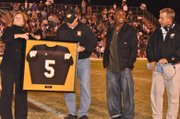 Former Westfield High School Bulldog and current Denver Broncos wide receiver Eddie Royal enjoyed a personal homecoming on Oct. 23 during Westfield's17-14 victory over Chantilly High School.
With the 6-0 Broncos enjoying a bye week in the NFL, Royal planned to return home to visit his family, relax and watch a Westfield game.
What he didn't know was that the Westfield football team had really invited him to the game because the school planned to retire his number.
"It's a great feeling to come home and you're still showed the love that [Westfield High School] has shown me," Royal said. "It's amazing to be back on this field where I have so many memories."
During a half-time ceremony, Royal, accompanied by his family, was presented with a framed No. 5 jersey. The school also unveiled a banner to hang in the end zone featuring Royal's name and number.
During the ceremony, the Westfield announcer rattled off a list of Royal's achievements as a Bulldog, Virginia Tech Hokie and Bronco.
Royal, along with future Virginia Tech teammate Sean Glennon and current Penn State running back Evan Royster, was a member of Westfield's undefeated 2003 Virginia AAA State Championship team.
After a successful college career, Royal was drafted 42nd overall by the Denver Broncos in the 2008 NFL Draft.
Since then, Royal has flourished as a wide receiver and a kick return specialist. He set a Broncos record for most touchdowns (five) and receiving yards (757) by a rookie receiver in a season.
The ceremony brought back memories of his playing days as a Bulldog, Royal said.
"Every moment [on the Westfield field] is something that I remember," Royal said. "The State Championship game was my favorite. We worked so hard to get there and it was a total team effort."
The moment also was shared by his former teammate, quarterback Sean Glennon, who is now helping the Bulldogs as a volunteer consultant.
"[Royal] deserves [the retirement]. Everywhere he's gone, he's made an impact," Glennon said. "He had a heck of a career here, he had a heck of a career at Virginia Tech, and it looks like he's going to have a heck of a career in the NFL. I'm very proud of him."
Glennon took time before the ceremony to reflect on his playing time with Royal.
"We played together for eight years and I wish I could still be playing with him now," Glennon said. "I just remember how much fun it was to throw the ball 10 yards to [Royal] and watch it turn into an 80-yard touchdown run."
Perhaps the person most affected by the ceremony was Royal's mother, Pearl, who shared stories about her son's football career from when he was a child.
"Tonight means so much," Pearl Royal said. "I just can't describe the feeling. It is absolutely wonderful."
Royal said she thought her son might have the talent of an NFL star when he was young because of his passionate refusal to lose games.
"He never wanted to lose," Royal said. "If he lost a game as a member of [Reston Youth Association] or at Westfield, we couldn't talk to him. His face would be twisted for two or three days. I'd have to remind him that if you gave your best, then you have nothing to feel bad about."
Although the main ceremony took place during the Friday night game, Eddie Royal met with Westfield players before their match with Concorde District rival Chantilly.
"I spoke to the team before the game and told them that they have my full support and that I've been watching from Denver," Royal said. "I remember being in their shoes. This was a great time in my life and I enjoyed every minute of it."