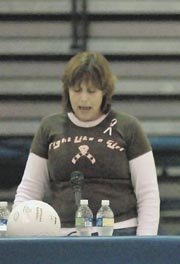 Mary Mathewson was about as well prepared as one could be for receiving a breast cancer diagnosis. Her sisters had it. Her mother had it — twice.
"We have the gene," she said. "I was pretty sure I would get it."
Mathewson, an English teacher at West Potomac High School, was diagnosed with breast cancer during a routine mammogram in April of 2007 at the age of 47. She was older than her mother and sisters were when they were diagnosed. But that didn't make it easy.
"On some level it was a relief because I knew I was going to get it anyway. It's like waiting for the other shoe to drop," she said. "But to actually hear the words, 'You have cancer,' is just scary. … I thought it would be [knowing it might happen] would [make it easier], but it didn't. It's still very, very, very, very scary. [There is] a 94 percent survival rate, which means it is six percent not survivable."
Mathewson's sisters survived breast cancer. Her mother survived 25 years after her first diagnosis, 15 years after her second before succumbing to leukemia in 2004. And now Mathewson is surviving her own battle. On Tuesday, her fight brought her to West Potomac's Dig Pink volleyball match against W.T. Woodson, where she gave a pre-match speech aimed toward raising breast cancer awareness.
She spoke of pain and keeping a positive attitude, among other things.
"Chemo is worse than the disease. Chemo sucks, it hurts, it's horrible," she said before the speech. "But never, ever, ever, one time did I not know I would survive."
One aspect of her life which helped keep Mathewson going is her children. Her oldest son, Adam, and her daughter, were already out of the house when she was diagnosed, but her youngest son, Colin, had to experience her suffering close up. Colin, then a sophomore, supported his mother while his football teammates helped support him.
"At first I was scared, just like any normal kid," Colin said. "I trusted her when she told me they caught it early so there was no risk of her passing away. … It was hard. There were times I'd lay in bed at night, she'd be sick and I felt so helpless. I just had to … give her support, that's all I could do."
Mathewson, now a senior, is the Wolverines varsity quarterback. He set the school record for passing yards in a game with 438 and tied the single-game passing touchdown record with five during Saturday's game against T.C. Williams.
"Everything I watch [my children] do amazes me," Mathewson said. "I love to watch my son play football, my daughter play field hockey, I like to watch my kids succeed, because I think I raised them to be determined."
Colin Mathewson described his mother as "strong."
"She's a warrior," he said. "That's why I love her."
More than $3,500 was raised during the event for Dig Pink and the Side-Out Foundation's fight against breast cancer. Unfortunately for the West Potomac volleyball team, the Wolverines didn't fare as well, falling 3-0 (25-18, 25-15, 25-13) to Woodson. Senior Linnea Markson led West Potomac with five kills.
"It meant a lot to me," Markson said of Dig Pink night. "My grandmother passed away (from breast cancer) when I was 2, so I never really got to know her, and my great aunt died of breast cancer, also. This whole night was just for all the people who have survived [and] all the people who have passed away."
Tuesday was also senior night for West Potomac, honoring Markson, Mallorie Calvert, Maddie Tindle and Molly Bowdring.
"[Tindle is] very, very quiet. In fact, I'm not sure I've heard her speak much all season," West Potomac coach Rebecca Waters said. "But somehow [she] is a really, really solid leader without speaking. She's a leader on the court.
"Mallorie's the little firecracker. … She's probably the most determined one. She's the one that will keep people more motivated. She'll run after balls and make plays that make other people want to do the same."
Waters praised Markson's and Bowdring's versatility.
They are "all-around, wherever-I-need-them , do-what-it-takes kind of players."