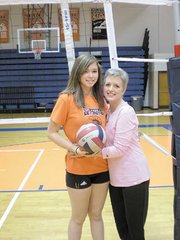 The six pink strands in West Springfield junior varsity volleyball player Savannah Schutzmeister's hair aren't some trendy new fashion statement. They're the mark of a family at war with breast cancer.
Six years ago, Schutzmeister's mother Shawn was diagnosed with breast cancer.
"I've been wanting to get six pink streaks in my hair because my mom has been surviving breast cancer for six years," Schutzmeister said. "I've been wanting them for a long time. I have two in the back and two in the front and side."
On Oct. 22, Schutzmeister will wear a pink volleyball jersey to match her streaks during West Springfield High School's Dig Pink volleyball match with Lake Braddock Secondary School.
Dig Pink is a cancer awareness rally sponsored by high school and college volleyball teams nationwide.
Teams raise money through raffles, T-shirt sales and other fundraisers for the Side-Out Foundation, which promotes breast cancer research and awareness.
"A lot of my friends have been passing out fliers and have sold a lot of raffle tickets," Schutzmeister said. "Everyone is just psyched about the event."
For Schutzmeister, the event is more than just a chance to support a cause, it's an opportunity to combine the sport she loves with her mother's battle.
"[Dig Pink] means a lot to me because it inspires my mom," Schutzmeister said. "My mom is my inspiration. When she was diagnosed, she kept trying to fight it. She's an advocate for breast cancer awareness."
Off the volleyball court, Schutzmeister continues to fight breast cancer with her mom in various ways.
"My mom and I usually do two breast cancer walks a year together," Schutzmeister said. "She has her own walking team called the 'Pink Warrior Princesses' and we wear special T-shirts when we walk and raise money [for breast cancer research]."
For the Schutzmeisters, battling breast cancer brings the family closer together.
"It's a bonding thing between us," Savannah Schutzmeister said. "Not every mother and daughter has as close a relationship as we do. I'm glad that I do."
The West Springfield volleyball team first learned about the Dig Pink event from Shawn Schutzmeister.
"I heard about Dig Pink and I wondered what it was," Shawn Schutzmeister said. "I found out it was about volleyball and I figured if I had the opportunity to do this, I would help."
The team embraced the idea and heavily promoted the volleyball match.
"I'm amazed at how inspired the girls and the parents are about [Dig Pink]," Shawn Schutzmeister said.
Freshman Kasey Jensen said she was eager to be a part of Dig Pink.
"Having Dig Pink makes [breast cancer] feel more real," she said. "It's not just some disease you hear about. You're actually fighting it on the court."
For Shawn Schutzmeister, the Dig Pink event is just one more chance for her to help others in their fight against breast cancer.
"I was diagnosed with recurrence in 2007 and the cancer spread to my liver and bones," she said. "I knew I wouldn't be around much longer. It's very important for me to keep fighting and to help others with their fight. I want to keep being a mom and get my kids through high school."
Now, Shawn Schutzmeister can enjoy the volleyball game knowing that her daughter and her West Springfield teammates, and the opposing Lake Braddock team, are enthusiastic about an important cause.
"The game is going to be so much fun," Savannah Schutzmeister said. "It's very cool because we are all playing in pink and supporting [my mom]. It will be a great event."