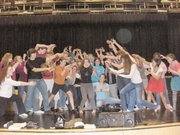 Woodson High's Theater Department is thrilled about its beautiful, new auditorium, so it's only fitting that the inaugural performance in it is a joyful production of "Seussical, the Musical."
Show times are Friday-Saturday, Nov. 6-7, and Nov. 13-14, at 7:30 p.m.; and Saturday, Nov. 7., and Sunday, Nov. 15, at 2 p.m. Tickets are $10 presale or at www.wtwdrama.org or $12 at the door; senior citizens, $5.
"The audience will love the show's imagination and creativity, plus their most beloved stories jumping out on stage at them," said Theater Director Terri Hobson. "There's a lot to see and hear, and we'll involve the audience, too. It's really a family show that all ages will enjoy."
They'll also get to see actors fly through the air. Foy Inventorprises, professional stage riggers, will install wires above the stage and the actors will wear harnesses. In addition, said Hobson, "Art students are helping paint the set, and we have lots of new technicians and actors. It's great to see them so excited about participating."
Junior Andreas Moffett portrays Horton the elephant. "He's a pensive, yet misunderstood, pachyderm who really wants someone to appreciate him," said Moffett. "He's friendly, but shy, and wholeheartedly earnest in everything he does."
As an elephant, he must move awkwardly and a little clumsily. But hardest, he said, is keeping his arms out in front of him, holding a "clover," almost the whole play. "My arms get really tired," said Moffett.
But he said Horton's "fantastic to play."
"It's a shock to handle this much work and my schoolwork, but it's really rewarding," said Moffett. "Horton's the characteristic nice guy. My favorite song is 'Alone in the Universe,' which I sing with Jo Jo [a little boy Who]. It's got an indescribable melody and a poignant message about that vacant space where one doesn't have a true friend."
Moffett described the show as fun and vibrant. "It distills the essentials of humanity that Seuss is so apt at conveying," he said. "And the characters are easy to connect with."
Classmate Emily Adler plays the narrator, the Cat in the Hat. "He's mischievous and always looking for trouble, but just for fun," she said. "He's clever, jumpy and energetic, and it's fun to have lots of interaction with the audience and with the other characters. I love it because I get to do so many cool things. I get to fly, dance and sing."
This is Adler's first musical, but she's enjoyed the challenge of learning the songs and choreography. "This will be a wonderful show to see," said Adler. "The technical aspects are just incredible, and the choreographers, Erica Messenger ad Robin Chinn, are fantastic. the dances are so fresh. The Jungle of Nool set is as close to the Dr. Seuss books, as possible, and we even have a kiddie slide. I really don't want anyone to miss it."
The play has a cast of 45 and crew of about 20, and Messenger's also the student director. She and Chinn started working on the choreography in early September for the nearly two dozen dances. "This show is almost entirely sung, so we did lots of choreography," said Messenger. The toughest song, the tap number, "Havin' a Hunch," took three hours to choreograph because "with tap, you're given certain moves and have to mix them and make them move together smoothly. There's lots of trial and error, figuring out what works and what doesn't. And with a musical, you have to consider the script, blocking, the actors' exits and entrances, plus scene changes, and incorporate it all. You also have to get the actors to the part of the stage they need to be at by the end of the song."
Calling the play "universal," Messenger said, "Everybody knows and loves Dr. Seuss stories. There are also some deep, important messages, too, about helping people, selflessness and being yourself. Jo Jo, the boy Horton befriends, believes it. They're both creative and imaginative and are outcasts in their societies. But they embrace it and people learn from them. There are also political and environmental messages."
"Kids will like the colorful costumes and sets, the charming characters and the fun music," Messenger said. "Others will appreciate the story's meaning, the great music and the talented actors."
Lighting designer is senior Jen Grottle. "We're mixing together lots of colors to represent different areas," she said. "We have over 100 new lights now. Before, we had 20-30, so it's a big change. It gives you more flexibility for design, and since this is a lively storybook, it's good to have a brighter stage. A good lighting design makes your show look amazing; you can create different moods, even without a set change."
C.J. McCracken portrays Vlad, the eagle who steals Horton's clover, which is the Whos' home. "He can't really think for himself," said McCracken. "He does what the group says is right. He's a total outcast, so he tries to change that by being mean. It's fun being in the play, but not as much fun being mean. But I get to fly, so I'm excited."
He said all the cast members are having fun, while working hard on "Seussical." The show promotes the message that "everyone's beautiful in their own way," he said. "Our singers can really wail, and our student directors have done a great job with the choreography, so it'll be a real joy to watch."