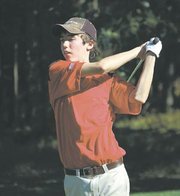 The Madison High golf team finished a solid season by placing second in the Virginia State AAA tournament on Oct. 20 at Waterfront Country Club near Roanoke. In a repeat of its runner-up position in the Northern Region tourney, the Warhawks ended up second to Westfield High School.
"The guys responded well to the competition and a very difficult golf course," said Madison Coach Ted Savia afterward. "Waterfront has U.S. Open rough, undulating greens, and hilly fairways. Anything under 80 was a good score."
Senior Joe Moloney led the team with a 74-79 – 153 and finished fifth in individual play. His showing capped off a great season, which included medalist honors in the Liberty District tournament.
Junior Chris Wendel posted a 1-over 72 on the second day, the low round of the tournament (along with two other players).
"I hit more greens and fairways in the second round, which is important on a course that tough," said Wendel.
He was 1-under on the front nine that day. He shot 82-72 – 154 and tied for sixth in the individual standings.
Several of the Madison players remarked on how much they enjoyed each other as teammates.
"Team chemistry and camaraderie were great," said junior Tommy Curley. "We were all good friends and played well together."
Only Moloney graduates next spring, and juniors Wendel, Curley, and Al Hubbard are looking for a good run in the fall of 2010.
State Team Scores (top three) were: Westfield (617), Madison (628) and Kellam of Virginia Beach (651).