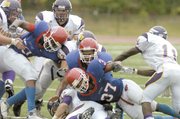 Damien Benton's name was called so often for making a tackle it seemed possible the voice projecting from the public address system at Parker-Gray Memorial Stadium was a looped recording.
The T.C. Williams linebacker flew to the ball during Saturday's game against Lake Braddock, finishing with 11 tackles and setting the tone for a group of defensive stat sheet standouts.
Linebacker Chelo Abbe, one week after scooping up a fumble and returning it for the winning touchdown against Oakton, finished with six tackles, an interception and a pass break up. Linebacker Tevin Isley complemented his team-high 12 tackles with a sack. Linebacker Prince Okigbo recorded seven tackles and an interception, end Tyrell Dixon had a pair of sacks and tackle Jay Whitmire finished with five tackles and a sack.
But while the defense's numbers looked good, the unit's slow start coupled with a struggling offense spelled trouble for T.C. Williams, which lost its Patriot District opener, 35-26.
From a scoreboard standpoint, Lake Braddock's 35 points were misleading in terms of T.C. Williams' defensive performance. Bruins defensive back Thomas Stickford returned a pair of interceptions for touchdowns, accounting for 14 of the team's points.
The Titan D played better as the game progressed. Lake Braddock's lone second-half touchdown came after a T.C. Williams special teams miscue gave the Bruins possession on the Titans 45-yard line.
The problem for the T.C. Williams defense was it took a quarter to get going.
The Lake Braddock offense totaled 157 yards and two touchdowns in the first quarter, compared to 220 yards and one touchdown in the final three.
"First quarter, we just came out flat," T.C. Williams defensive coordinator Mike Gamble said. "What [the Bruins] were doing we prepared all week for it, but mentally we weren't in the game in the first quarter. They put up 15 points in the first quarter and they scored six on the defense the rest of the way."
The reason for the turnaround?
"I think we as a coaching staff, we made our adjustments," Gamble said. "As soon as we all got on the same page and just let them play football, we pretty much stopped everything they were trying to do."
Lake Braddock scored touchdowns on each of its first two possessions. After forcing a T.C. Williams punt on the game's opening possession, the Bruins marched 77 yards in 10 plays, capped by a 1-yard run by quarterback Michael Nebrich. T.C. Williams was whistled for a pair of offside penalties on the ensuing point-after-touchdown attempt, moving the ball to the 1-yard line. The Bruins sent their offense back on the field for a two-point attempt, which they converted with a Nebrich sneak for an 8-0 lead.
After a T.C. Williams punt, Lake Braddock drove 90 yards in eight plays to take a 15-0 lead. Nebrich connected with Brandon Johnson for an 11-yard touchdown pass, but the drive's key play was a 62-yard pass from Nebrich to Johnson on second-and-15 from the Lake Braddock 18-yard line.
From that point on, however, the Titans forced three turnovers and allowed only the 45-yard touchdown drive in the third quarter.
"The first two quarters, I thought we played kind of poor," Benton said. "But in the second quarter, we picked it up a little bit. … We've got to pick it up in the first two quarters and not let teams start getting off on us."
Benton is the Titans' leading tackler with 51 for the season, an average of nearly 13 per contest. He had a season-high 22 tackles in the season opener against Robinson.
"Damien's always around the ball," Gamble said. "He's a big-time player. The thing about Damien is … I wish we had more Damiens because the kid can do everything. … He can play man-to-man coverage, you can blitz him, you can do a million different things.
"He's a tackling machine and the kid never gives up. He's our leader on defense and they respond to him."
Isley is second on the team with 46 tackles.
The T.C. Williams defense has allowed four touchdowns in its last three games. Its next challenge is stopping West Springfield at 7:30 p.m. Friday at WSHS. The Titans are 2-2, 0-1 in the Patriot District, while the Spartans are 2-2, 1-0 in the district.
"We're working well as a unit," Abbe said, "but we have to fix some things."