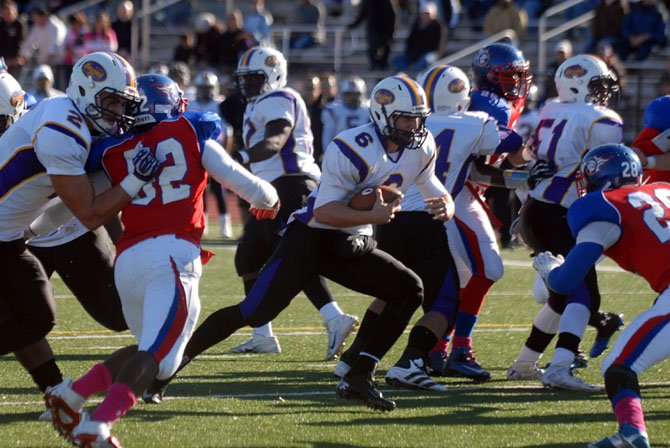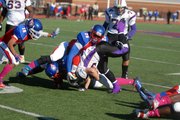 With the Lake Braddock football team threatening to score early in Saturday's contest, T.C. Williams linebacker Malik Carney tackled Bruins quarterback Caleb Henderson for a 3-yard loss on second down.
Two plays later, with Lake Braddock facing fourth-and-short inside the TC 5-yard line, Carney smashed Henderson to the ground short of the first down.
Lake Braddock again drove deep into TC territory on its next possession but failed to reach the end zone. Titans defensive tackle Jeremiah Clarke stopped Lake Braddock running back Trevor O'Brien for a 1-yard loss on first-and-goal from the 5 and the Bruins would eventually settle for a field goal.
The Lake Braddock-T.C. Williams matchup on Oct. 25 pitted future University of North Carolina teammates against one another. Carney and Clarke, who will play defense for the Tar Heels, had their moments, but the rest of the afternoon belonged to the Bruins and UNC quarterback commit Henderson.
HENDERSON THREW A TOUCHDOWN PASS and rushed for two more scores as Lake Braddock cruised to a 44-0 victory at T.C. Williams High School, improving the Bruins' record to 8-0. Lake Braddock has outscored its five Conference 7 opponents 271-0.
Henderson completed 11 of 26 passes for 182 yards and carried 12 times for 120 yards against TC, according to stats from the Post's allmetsports.com. Henderson's 45-yard touchdown run gave the Bruins a 24-0 advantage in the second quarter. His 16-yard scoring scamper extended the Lake Braddock lead to 31-0 with less than two minutes left in the opening half.
The Bruins' first possession of the second half ended with a 26-yard touchdown pass from Henderson to AJ Alexander.
T.C. Williams entered the game with a 5-2 record, but the Titans and their Division I defensive duo had no answer for Henderson and the Bruins.
"It's a lot of fun," Henderson said about facing his future UNC teammates, Clarke and Carney. "I get to see what my team's going to look like. They look pretty big and athletic so I'm excited to play with them."
"It's fun going against somebody that's going to be your future teammate. … It's fun to get a last play in before you're not allowed to hit him."

--- T.C. Williams lineman Jeremiah Clarke, who will be teammates with Lake Braddock quarterback Caleb Henderson at UNC
Henderson was the first of four Northern Virginia prep football players in the class of 2014 to commit to the University of North Carolina, committing as a junior on April 11. Clarke (June 16), Carney (June 22) and Yorktown running back/defensive back MJ Stewart (July 15), who will play DB for the Tar Heels, eventually also decided to play at Chapel Hill. Henderson said he tried to convince former West Potomac teammate DeMornay Pierson-El to choose UNC, but Pierson-El committed to the University of Nebraska, where he will be a slot receiver and kick returner.
"I talked to Jeremiah and Malik every time I saw them at 7-on-7s," Henderson said, "and I would text Jeremiah and just say, 'Hey, keep Carolina in your mind, blah, blah, blah,' because he had a ton of offers, same with Malik. It's a really big grab for us to have Jeremiah and Malik."
Henderson, who was selected to play in the U.S. Army All-American Bowl, is listed at 6 feet 4 and 217 pounds. ESPN.com ranks Henderson No. 187 in its latest list of the country's top 300 college recruits. He's rated the No. 11 quarterback recruit in the nation, receiving a grade of 83 out of 100 and four out of five stars. Other schools that offered Henderson include Virginia, Virginia Tech, Maryland, Michigan State, Purdue and Miami.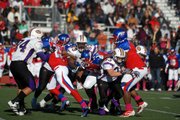 Clarke was the next Northern Virginia player to commit to UNC. Listed at 6 feet 4, 265 pounds, Clarke is rated by ESPN.com as the 48th-best defensive tackle recruit in nation, receiving a grade of 79 and three stars. He also received offers from Virginia, Virginia Tech, Tennessee, Penn State, Nebraska and Miami, among others.
Clarke, who also plays left tackle on the Titans' offensive line, finished with two tackles against Lake Braddock while battling ankle and Achilles tendon injuries.
"It's fun going against somebody that's going to be your future teammate," Clarke said. "… It's fun to get a last play in before you're not allowed to hit [Henderson]."
Clarke said already knowing a few of his Tar Heel teammates will help with the transition to college.
"It's great because you already have some friends," he said. "You don't have to worry about that awkward stage."
Carney, listed at 6 feet 2, 208 pounds, said UNC coaches are looking at him as a weakside linebacker. ESPN.com ranks Carney as the No. 111 outside linebacker in the nation, giving him a grade of 74 and three stars. Carney also received offers from Tennessee, Connecticut, Marshall, Pittsburgh and Toledo, among others.
Against Lake Braddock, Carney tallied six tackles, two tackles for loss and one sack.
"Just seeing what [Henderson is] going to bring to the table," Carney said when asked about the experience of playing against future college teammate Henderson. "Just going against [him], being competitive. Just acting like I don't know him at all."
Carney is also a running back for the Titans. He carried 15 times for 46 yards against the Bruins.
LAKE BRADDOCK will host South County on Friday, Nov. 1 in a game that will likely decide the top spot in the Conference 7 standings. T.C. Williams will travel to face West Springfield.