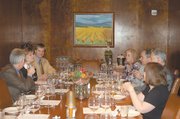 If it's January, it must be time for the Alexandria Chamber Gala. If it's time for the Gala, then it's time to be at the Hilton Alexandria Mark Center. And if it's time to be at the Hilton, then it's surely time for Vice-Mayor Kerry Donley to wield his auctioneer gavel.
The Live Auction will not disappoint. Once again, Charlie Banta, general manager of the Hilton Alexandria Mark Center, has donated a Dinner for 12 with wine pairings at Finn & Porter. The Curcios won this same package a couple of years ago and was well worth it.
Not to be outdone, Charlotte Hall has donated a night on the Potomac Riverboat. This is paired with catering by Mango Mike's so it is sure to be a popular item.
There will be other live auction items, and of course many great items for the silent auction. So far, 'Charlie's Favorite Table' includes golf lessons from Belle Haven Country Club; an autographed item from the Washington Capitals; and cigars.
There will also be an opportunity to win a three- to four-night vacation package in Cancun, courtesy of MacNair Travel; a $500 gift certificate from King's Jewelry; and a three-night stay at the Pointe Hilton Squaw Peak Phoenix Resort.
This is not your mother's gala. Every year, the Alexandria Chamber does something new and exciting. This year's rodeo theme promises that at least a few of the more daring members will come attired with cowboy hats and spurs — maybe a lariat or two.
Anybody who is anybody in Alexandria will be there and Kaleidoscope will perform for your dancing pleasure. For those guests wishing to continue the party after the gala is over, the Hilton is offering a special room rate of $79.
Gala will be held on Saturday, Jan. 30 from 6 p.m. to midnight at the Hilton Alexandria Mark Center, 5000 Seminary Road, Alexandria. Tickets for the gala are $125 – or you can buy a table of 10 for $1,000. To register, visit https://alexchamber.bluekeyinc.com/view_events.php or call 703-549-1000.
Guests wishing to stay overnight can book a room for $79 by calling 703-845-1010.