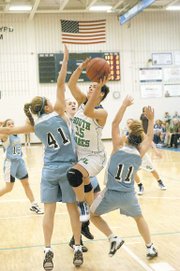 Zoe Beard-Fails and several other South Lakes High girls' basketball underclassmen have played a huge role in helping the Seahawks remain one of the better teams within the Liberty District this season.
It is not unusual for a program that has seen success to drop down a few notches after the graduation losses of key senior players. But that has not occurred with coach Christy Winters Scott's team this winter. A year ago, a seasoned South Lakes squad, led by senior stars Kelcyn Manurs and Kacey Liscomb, captured the regular season district title and went 19-4 overall. Manurs, the team's point guard, was named District Player of the Year.
This season, the Seahawks are much younger and have started three freshmen – pivot player Beard-Fails, and guards Gabrielle Schultz and Marlena Tremba. The trio has mixed nicely with veteran players such as senior guard Jasmine Jones, the top returning player from last year's Seahawks, and junior point guard Ashlei Sutton to help South Lakes build an impressive 10-4 overall record and 4-2 district mark going into this week.
The 6-foot-2 inch Beard-Fails, averaging 16.5 points and six rebounds per game, has proven to be one of the top newcomers to the Northern Region. She scored 25 points in the Seahawks' 73-57 Liberty District home win over Fairfax last Friday night.
"If you look up `tough' in the dictionary, you will see her face there," said Winters-Scott, of her outstanding ninth grade frontcourt player. "She's one of the toughest kids I've ever coached. She has an innate feeling of fearlessness. People notice she has that type of will."
Beard-Fails, age 14, can be a dominant inside presence but is also a good ball-handler and can play around the perimeter.
"She's so versatile," said her coach. "She can get a rebound and take the ball all the way down the court. She's very capable of handling the ball in traffic. There are a lot of things she can do. She's aggressive, focused and strong, and she's also strong-minded."
The Seahawks, in the win over the Rebels, also received a stellar game from Tremba, who scored 21 points from her two-guard position. She converted three of her team's four shots from three-point territory. Also in double figures for South Lakes was Nia Wardlaw, a junior frontcourt player who came off the bench to score 10 points and grab four rebounds.
Other good games for the Seahawks came from point guard Sutton, who scored seven points while dishing out five assists and playing solid defense, and Natalie Kendall, a senior forward who scored six points along with four assists. Schultz, who during one three-game stretch this season had at least 13 rebounds in each contest, added four points for South Lakes, which trailed 19-14 after one quarter before outscoring the guests 44-23 over the next two quarters.
South Lakes was outstanding at the free throw line, converting 21-of-24 shots. Beard-Fails made 11-of-12 from the charity stripe and Tremba made all six of her tries.
"It was a great win," said Winters-Scott, whose team was coming off a 60-55 district road loss at McLean three days earlier. "I thought it was our best game thus far. We shared the ball well and defensively we were where we needed to be. On the boards, we were very aggressive. [The free throw conversions] were huge for us. We were in attack mode and attacking the rim. Friday's win was a collective team effort."
<b>LOCAL RESTON</b> youth travel teams and players were on hand to enjoy Friday night's high School basketball action between the Seahawks and Fairfax. Following the game, members of the Reston Seahawks' 12-under team visited the South Lakes locker room. A team captain of the youth Reston team told the South Lakes players that they played great.
"They've come to our camps over the last couple of summers so a lot of our girls have seen them," said Winters-Scott, of her team's relationship to the local Reston youth travel team players.
While pleased with her team's bounce-back win on Friday and her team's good first half of the season, Winters-Scott said there is always room for improvement.
"We still have some growing to do in terms of maturity and being competitive," said the coach. "We're still learning every day about how hard you have to work. But I'm not surprised where we are [record wise]. We've been in every game. I'm very encouraged about the future of the program. It's exciting to see."
The Seahawks' top scorers this season are freshmen Beard –Fails (16.5) and Tremba (15). In all 14 of South Lakes' games, Tremba has knocked down at least one three-pointer. She has scored in double figures in all but two of her team's games. Her lowest point total this season was eight points.
South Lakes has received good bench play this season from such players as Wardlaw and sophomore guard-forward Emily Lopynski.
"Emily is pesky on defense," said Winters-Scott. "She's the hardest working player out there. She gets on the floor and does a lot of the dirty work in a game."
Wardlaw, meanwhile, also goes all out. At the end of every practice, one South Lakes player earns recognition as `Player of the Day' for their hard work ethic and overall solid play. The prize is the honor of wearing a South Lakes blue, green and gray colored scarf.
Wardlaw has worn the bright scarf more times than anyone thus far.
<b>THIS SUNDAY NIGHT</b>, Nov. 24, the South Lakes varsity, JV and freshmen girls' squads will make a trip to College Park to watch the University of Maryland women's team take on Duke in an ACC affair.
"We take them every year," said Winters-Scott, a 1990 Maryland graduate. "I think we saw North Carolina last year."
Winters-Scott played four years for Maryland and, in 2006, was inducted into the school's athletic Hall of Fame. During her collegiate playing career, Winters-Scott was a part of two Maryland teams that captured ACC titles.
During her junior year, the Terrapins reached the NCAA Final Four when they went 29-3.
She earned First Team All-ACC honors as a senior and made the All-ACC Tournament team as both a sophomore and senior. In 1990, Winters-Scott was named to the Kodak All-American Eastern Region team. She is among Maryland's top career points and rebounds leaders.
This week, South Lakes was scheduled to play district road games at Langley (Tuesday, Jan. 19) and Madison (Friday, Jan. 22).