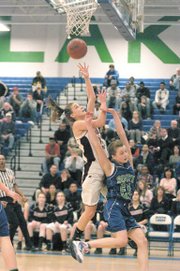 With South Lakes rolling late in the game in front of a feverish, excited fan base on Monday night, Feb. 22, it looked as if a new girls' basketball champion was about to be crowned in the Liberty District. But Madison, the defending champion, rallied over the final minutes of regulation before ultimately winning in overtime, 56-51, in the dramatic, well-played title game that took place in the South Lakes High gymnasium.
The district tournament title was the third straight for Madison (13-8) and second straight under head coach Kirsten Roberts, who's top-seeded Warhawks reached the finals with wins over No. 8-seed Jefferson and No. 5 McLean.
South Lakes, the No. 2-seed that made it to the championship game with victories over No. 7 Marshall and No. 3 Stone Bridge, struggled in the first half against Madison, trailing 21-6 after one quarter, before treating their vocal fans to a second half comeback.
"It's frustrating because it was right there for us," said Christy Winters Scott, the former University of Maryland women's star who, in recent years, has built the Seahawks into one of the Northern Region's better teams.
South Lakes (16-6), led by freshmen sensation Zoe Beard-Fails, was in great position to win following a three-point shot by ninth grader Gabrielle Schultz, from the top of the key, that gave the Seahawks a 43-37 lead with four minutes remaining in the fourth quarter. But the Warhawks received a huge lift from a freshman of their own, backup guard Megan Henshaw, who nailed a pair of three-pointers over the next one minute, 45 seconds to draw Madison within 44-43. Schultz, off an assist pass from Beard-Fails, answered with a short range shot off the left side to give South Lakes some breathing room at 46-43 with 1:17 remaining.
But moments later, Madison 6-foot-2 inch junior forward Anna Jay scored from 6 feet out on a rebound follow-up while being fouled. She converted the free throw to tie the game at 46 with 53 seconds left. Neither of the two teams scored again in regulation and the championship contest went into overtime. There, Madison sophomore guard Sarah Schrock opened up the four minute extra session with a three-pointer off the right wing, igniting a 7-0 Madison run that made the score 53-46, Warhawks, with just over two minutes remaining. Later, South Lakes guard Marlena Tremba, another freshman, got the Seahawks within 53-51 with a trey from the right wing with 1:18 left. But South Lakes was not able to score again and Madison converted three foul shots over the final 33 seconds to secure the win and the title.
"Our freshman really stepped up and made those threes," said coach Roberts, of perhaps the game's key sequence late in regulation when Henshaw converted the two critical long rangers.
Winters Scott, the Seahawks' coach, said Madison hurt her team with 22 offensive rebounds on the night. Madison's Jay scored four baskets on follow-up shots. For the game, Jay was perhaps her team's top player with 16 points and 13 rebounds. Madison's other key contributors were junior guard Erin Kavanagh (12 points, 5 rebounds), Schrock (11 points, 4 rebounds) and Henshaw (9 points, all after halftime). Kavanagh earned tourney MVP honors during postgame awards ceremonies, and teammate Schrock was also named to the six-member all-tourney team.
<b>FOR SOUTH LAKES</b>, freshmen Beard-Fails (12 points, 9 rebounds), the Seahawks' outstanding 6-2 forward, and Tremba (13 points, 4 boards) made the all-tournament team.
Winters Scott was disappointed that her team lost but said the championship game was a great experience for her team that consists of three freshmen starters and several other underclassmen.
"It's tremendously encouraging for them to be in that situation," said Winters Scott, of her players competing in a district title game. "Having gone through this experience is planting seeds for the future. [The returning players] will know how to play in games like this and how to finish them."
South Lakes trailed Madison 27-13 in the second quarter before closing the quarter with a 7-0 run and then outscoring the Warhawks, 17-6, in the third quarter to take a 37-33.
"We showed a lot of team character to battle back," said Winters Scott.
South Lakes was scheduled to host Chantilly on Wednesday night, Feb. 24, in a first round game of the 16-team Northern Region tournament.