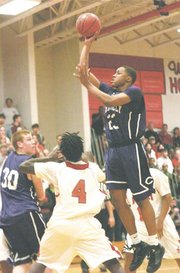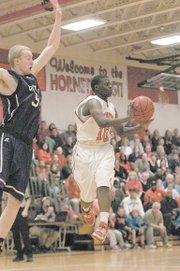 From potential goat to the game's hero – that was the way the final seconds played out for Herndon High's Austin Hamilton in the Hornets' dramatic 60-58 boys' basketball win over Chantilly last Friday night. The Concorde District game, matching two of the Northern Region's better teams, took place in front of a capacity crowd at Herndon.
Hamilton, Herndon's junior point guard, had missed out on a chance to perhaps seal victory for his team when he missed a foul shot - the front end of a one-in-one – with 22 seconds remaining. As a result, Chantilly, still within three points at 58-55, gained possession and tied the contest on an unorthodox three-point bank shot by Devin Ballam from the right wing with 10 seconds remaining.
Herndon, with no timeouts left, quickly got the ball up the floor. Hamilton, with possession, drove hard towards the right side of the basket and converted an off-balanced, 10-foot shot that hit the rim before falling through for what proved to be the game-winning shot with three seconds showing.
Chantilly launched a last second shot from beyond half court, which was fairly close but did not fall. As the final buzzer went off, a swarm of Herndon students flooded the floor in celebration.
"That's one of those shots you dream of," said Hamilton, of his winning basket. "I tripped a little [while going towards the basket]. Luckily I got it up and it went in."
Hamilton, who helped his team improve to 11-1 overall and 5-0 in the district, chided himself for not making the free throw that likely would have put the game away for Herndon with 22 seconds left.
"That was a big free throw I had to make and unfortunately it didn't go down," said Hamilton, who finished with 15 points and five rebounds.
"He should never miss a free throw," said Herndon coach Chris Whelan, smiling and shaking his head as he recalled the final seconds. "He's a great shooter."
Hamilton certainly made up for the missed foul shot with his driving basket moments after the Chargers tied the game on Ballam's trey.
"Austin has a second gear and he completely turned it on," said Whelan, of the clutch drive and score. "He's still young and definitely improving every game. Everyone knows he's our go-to guy. He never gets rattled – even when he missed that free throw."
Hamilton and teammate Randoll Anane both scored 15 points to lead the home team, while Jonathan Beltran added 14. Beltran, a junior shooting guard, nailed four long range three-pointers in the first half, to the delight of the vocal Herndon students in attendance. His red-hot shooting helped keep Herndon, which trailed 23-14 with just over three minutes remaining in the second quarter, within striking distance at halftime, trailing 33-28.
"He can shoot like that," said Whelan, recalling a Jan. 12 win at Centreville in which Beltran knocked down six-of-seven three-pointers and finished with 24 points. "He kept us in the game [against Chantilly] in the first half."
<b>HERNDON</b> opened the second half with an 8-2 scoring spell, capped by a driving shot in the lane by Beltran to give the Hornets a 36-36 lead. Later, Chantilly's Kethan Savage (14 points), a junior guard and the Chargers' leading scorer this season, closed the quarter out by scoring the final four points to give Chantilly a 43-42 lead going into the fourth.
Neither team could break away in the final quarter. Herndon's Anane gave his team a 56-53 lead on a baseline layup basket with 1 minute, 9 seconds remaining; and the score was 58-55 Hornets following two foul shots by Hamilton with 31 seconds left. But moments later, after Hamilton missed from the line, Ballam (13 points) tied the game with his huge three-pointer to set the stage for Hamilton's game-winner.
Chantilly junior center John Manning finished with nine points and three blocked shots.
"Our kids have played against Manning," said Whelan, of the talented 7-foot pivot player. "He does a great job staying in there. We were attacking him [on offense] all night."
Chantilly fell to 10-6 with the loss.
"Give Herndon a lot of credit," said Chargers' coach Jim Smith. "They made some good plays down the stretch. They shot the ball real well. They get good guard play and are good on defense. Hamilton is real good."