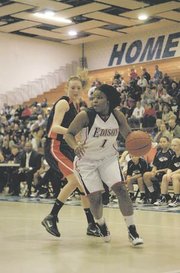 Edison senior Myisha Goodwin spent much of the 2009-10 girls' basketball season displaying her point-scoring prowess in the National District, scoring in double digits in every regular season game.
On Feb. 27 at the Northern Region semi-finals, the West Springfield Spartans stymied the North Carolina State-bound Goodwin and held her to a season-low nine points in their 56-42 victory.
"They know how to play defense," Goodwin said. "There's nothing more I could say."
West Springfield double teamed Goodwin for the entire game, forcing the Eagles' support players to try to pick up the slack.
"When Myisha wasn't able to get into her flow, things didn't get into sync for us," Edison head coach Diane Lewis said. "West Springfield just played an awesome game."
In the first quarter, the Eagles appeared to be feeling out their opponent. The game's make-up changed when the Spartans ramped up defensive pressure on Goodwin.
Soon, the Eagles found themselves on the wrong end of a second-quarter run as West Springfield jumped to a 27-17 lead.
The Eagles were unable to cut into the lead as the Spartans let time tick away on the clock and Edison's season.
"I don't know what happened," Goodwin said. "When they started scoring baskets on us, we just weren't getting back on defense."
West Springfield's ability to control Goodwin caught Lewis by surprise.
"There weren't many teams that were [able to shut down Goodwin] this season," she said.
While the Eagles had cruised past most of their regular-season opponents, sometimes scoring more than 80 points in a single game, Lewis cited West Springfield's gritty play as another element her team couldn't overcome.
"The game got physical," she said. "And the calls didn't go our way, but it's going to happen like that. It's basketball."
Lewis also noted that the recent snow-induced whirlwind schedule affected both teams.
"This is our fourth game in a week," she said. "Fatigue plays a factor, especially for someone like [Goodwin], but she never complained and gave everything she could."