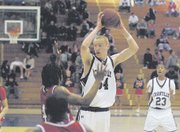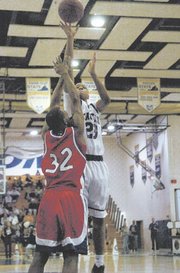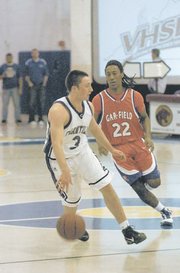 Jim Smith and his Chantilly High boys' basketball team broke into new territory last Saturday night when the Chargers, behind a suffocating defense, won their opening game of the Virginia State AAA playoffs by defeating Gar-Field (Dale City), 50-40. The quarterfinals round contest took place in front of a large, energetic crowd at Robinson High School.
The state playoff victory was the first ever experienced by the Chantilly boys' basketball program, which had lost first round state playoff games way back in 1989, '91 and '92. The '92 setback, which came against Patrick Henry of Roanoke, occurred in coach Smith's first season at the helm of the Chargers.
"It means we have a special group of kids," said Smith, of the significance of the breakthrough win. "We've had special kids, players and teams [in the past] who never got here before."
With the win, Chantilly (20-7), this year's Northern Region champion, advanced to this week's state semifinals at Virginia Commonwealth University's Siegel Center in downtown Richmond. The Chargers were scheduled to play I.C. Norcum, the Eastern Region champion from Portsmouth, on Wednesday afternoon (March 10) at 3:45.
The winner of that game will advance to Friday night's championship game at 9.
<b>AGAINST GAR-FIELD</b>, the Northwest Region runner-up, Chantilly was matched up against a physically smaller team that has found success this season behind an aggressive, stingy defense that has both shut down opposing teams and forced turnovers that have led to transition baskets. One of the Indians' weaknesses, however, has been their erratic shooting.
Chantilly's defensive game plan was to aggressively contest every Gar-Field shot. And the Chargers did just that. Gar-Field, when it had to set up its offense, had limited success when it shot the ball from the outside. When the Indians worked the ball inside or drove towards the hoop — which they like to do — they had to contend with Chantilly seven-foot center John Manning. The junior pivot player, who seems to get better and better every time he takes the court, blocked five shots and changed numerous others. It was obvious several minutes into the game that Gar-Field was well aware of Manning's menacing presence in the paint. On top of that, Manning's teammates were doing their part as well to hinder Gar-Field's offensive ball movement through physical, aggressive defense.
Gar-field had to work oh, so hard just to get off decent shots. And getting off good shots inside, with Manning around, was pretty unmanageable.
"We felt the key was not to give them easy baskets," said Smith. "They play real good defense but we didn't think they were real explosive offensively."
<b>CHANTILLY</b>, which built leads of seven points on a couple of occasions in the second quarter, found itself in a close game at halftime, leading by just 25-23. In the third quarter, both teams' defenses dominated play. The first points of the quarter came with three minutes, 48 seconds showing on the clock when Gar-Field senior guard Randell Smith (14 points), the Indians' most steady player throughout the game, connected on a 16-foot jumper off the left wing to tie the score at 25.
But the basket seemed to wake the Chargers up, who scored all six of their points in the quarter over the last 3:16 - a close range bucket by Manning (8 points, 6 rebounds), off an assist pass from frontcourt teammate Matt Howerton (4 points); a spectacular driving dunk shot by senior guard Kethan Savage; and an Adam Fridy layup basket, off an assist from Manning, which completed the quarter's scoring to make the score 31-25 Chargers going into the final quarter.
In that third quarter, Chantilly had scored just six points. But Gar-Field scored just two. Chantilly's defense had stepped up big time.
"I just thought it was good man-to-man defense," said coach Smith, of that third quarter. "We thought a zone [defense] might be good [early in the game]. But we switched to man and I think our man to man defense was great."
"We had a good matchup with John [inside]," said Fridy (10 points), Chantilly's sharp-shooting senior forward. "We played man to man. We just buckled down and kept them to two points that quarter."
<b>THE GAME'S MOST</b> spectacular play was the third quarter dunk basket by Savage, Chantilly's steady scoring shooting guard who had been held to two first half points. Savage, with his team ahead by just a basket, had the ball near the top of the key when, in the blink of an eye, he drove hard to the right and, in one bursting motion, leapt and jammed the ball into the net with his right hand for the game's statement basket. Savage went on to score 10 points in the second half, 12 for the game.
"Coach had told me in a huddle during a timeout that if I had No. 10 [Curtis Einsmann] on me, to look for the mismatch," said Savage. "I tried to explode past him and finish it with a dunk. It felt good. The crowd was in it and the momentum changed."
Savage credited his teammates with picking him up early in the game when he was struggling.
"I wasn't getting it going in the first half and my teammates took it upon themselves," said Savage. "In the second half they found a way to get me the basketball."
Chantilly, after scoring the last six points of the third quarter, got baskets from Savage and point guard Devin Ballam (team-high 14 points) to begin the fourth quarter and increase its lead to 35-25 with just over seven minutes remaining. The basket by Ballam, a layup, came off the transition following a Manning blocked shot at the other end.
Gar-Field was within 42-36 following a pair of free throws with 1:54 left to play. But Ballam, who scored seven fourth quarter points, answered by scoring the game's next four points - a pair of free throws followed moments later by a layup - to make the score 46-36 and all but clinch the win for the Chargers.
"It's a great win for the program," said Fridy. "It's such an accomplishment after all the hard work by the team in the offseason. It paid off. We've all just come together the last two or three weeks. We're like a family."
Savage said Chantilly has had a goal since early in the season of getting to states and winning a game. Now, the Chargers are hoping to go even further.
"I'm excited because Chantilly has never gotten [to the state semifinals] before," he said. "Coach said there are four great teams left."