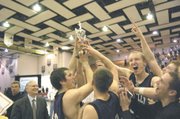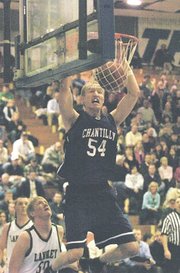 In the end on Monday night, it was John Manning who grabbed the final rebound just seconds before the final buzzer sounded to give his Chantilly Chargers their first Northern Region boys' basketball title in 20 years. And that was kind of fitting, being that the star junior center was the primary focal point on a Chantilly squad capable of hearting opponents in so many ways.
Chantilly held off a determined, never-say-die Langley squad that had not lost a game since midseason and was competing in its second region finals contest in three years. The final low score of 50-43 paid testament to both team's outstanding defensive prowess. On this night, the Chargers were just a little bit better.
"It feels great to finally get it," said Manning, the seven-foot center who was named tournament MVP. "We came close in recent years. We finally broke through."
Manning, who averaged eight blocks per game over Chantilly's four region playoff wins, scored a game-high 16 points with 10 rebounds and six blocks in the title game played at Robinson High School.
Both Chantilly (19-7) and Langley (22-4) will play first round state AAA playoff games this Saturday. The Chargers, who last qualified for states during coach Jim Smith's first season with the program back in 1992, will play their quarterfinals round game in their home area at Robinson on Saturday afternoon at 4:15. Langley, meanwhile, will travel to Salem to face Patrick Henry of Roanoke Saturday afternoon at 3:45.
<b>THE REGION CHAMPIONSHIP</b> encounter was highlighted by an outstanding matchup of big men Manning and Langley senior Austin Kriz, who one year after seeing limited playing time for the Saxons has emerged into one of the finer front court players in the region. Kriz, who made the five-member all-tournament team, held his own against the Chargers and Manning, scoring a team-high 10 points with seven rebounds.
"He's a great player and can really shoot for a big man," said Manning, of the 6-foot-6 inch Kriz.
Chantilly, which scored the game's first eight points, led all the way, although it could never pull away for good. The Saxons, after falling behind 20-9 after one quarter, outscored the Chargers, 11-2, in the second quarter to get within 22-20 at halftime.
But Chantilly's Adam Fridy (14 points), a senior forward, connected on two of his game-high four, long range 3-point shots in the third quarter to help give the Chargers some breathing room at 35-26 going into the fourth quarter. Chantilly's lead stretched to 41-28 when Manning, after taking a pass from Jamie Danehower, scored on a two-handed dunk shot off the right side with five minutes left to play.
But then Langley charged back, scoring 13 of the game's next 15 points and getting within 43-41 on a driving basket off the right side from junior guard David Adams (11 points) with 1 minute, 18 seconds left to play.
Following a pair of free throws from junior guard Kethan Savage that made the score 45-41 Chantilly, Langley's Joey Kiffe (6 points), a senior forward, made a pair of clutch free throws of his own to get the Saxons within 45-43 with 1:03 left.
Savage (14 points) made another free throw to make it 46-43 with 41 seconds. Then, on Langley's next possession, Manning snatched an errant pass with 25 seconds showing.
Moments later, Chantilly junior point guard David Ballam (6 points), after being fouled, made two free throws to pretty much ice the game and make the score 48-43 with 22 seconds left. Langley missed on its next possession and Manning, after grabbing a rebound and getting fouled, scored the game's final points with two free throws with nine seconds remaining.
For the game, Chantilly made 22 of 26 free throws. Manning made all eight of his foul shots, all coming in the second half.
"We've just been practicing [foul shots] so much," said Manning. "We know it can make a difference. It really paid off for us."
In the game's aftermath, Chantilly cut the championship net down, with head coach Jim Smith cutting the final strand.
"I was real proud of our kids," said Smith. "We hit our free throws down the stretch and made a few [defensive] stops. I'm proud to get the opportunity to lead these kids. It's a special group of kids."
<b>FRIDY AND SAVAGE</b>, along with MVP Manning, both made the all-tourney team for Chantilly. Fridy set the tone for both the first and second half's of play by connecting on three-pointers to open the scoring.
Savage, meanwhile, missed three of his first four foul shots in the second half before hitting five-of-six over the final 2:18 to help Chantilly hold on for the win.
"I was just trying to focus as much as possible," said Savage, of his trips to the foul line late in the contest. "I knew I'd missed a few earlier in the game, but I wanted to make them [down the stretch] for my team."
For Langley, both Kriz and Adams made all-tourney. Also having a fine tournament for the Saxons was senior guard Colin Jones, who scored 12 points in the title game. Jones fueled the Saxons' fourth quarter comeback by nailing a pair of three-pointers midway through the final period to get his team within 41-34.
Travis Hess, the Langley coach whose team also made it to the region finals two years ago, was pleased with the way his Saxons fought their way back into the ball game against Chantilly.
"I was proud of the way we battled back," said Hess, who has led Langley to three consecutive Liberty District tournament titles. "We could have easily mailed it in. We made some big three's [down the stretch] and made it interesting. Hats off to Chantilly, and congratulations to their team."
Of going up against Chantilly's Manning, Hess said, "It's hard to score against him because he's inside [the paint] and does so much in the middle. And he's a good offensive player."
<b>CHANTILLY</b> has looked to be on the verge of greatness in recent years. A year ago, the team, after winning the Concorde District tournament, lost in a second round regional playoff game to Hayfield. That Chargers' team believed they had the ability to win a region crown, but it fell short.
This season, that dream has been realized.
"Finally, we accomplished our goal," said Chantilly senior forward Matt DeWitt. "We wanted to win it last year. It feels good to win this one. Everyone knows that John is huge defensively for us. But all of our role players stepped up as a team."
The strength of Chantilly is its unselfishness and players' willingness to play as a unit.
"We play as a team and everyone picks each other up when someone is down," said Danehower, a junior guard.
In the midst of Chantilly's postgame, on-court celebration, with pictures being taken and the team having been presented with a championship banner, Savage, Chantilly's talented forward, watched as his teammates cut down the pieces of the championship net.
"I'm excited and happy for the team, and I'm enjoying the moment," he said, expressing the sentiment of all Chantilly loyalists who were onhand.
<b>Historical Context</b>
Monday was Chantilly's first region finals appearance since 1992 – coach Smith's first season at the helm. That year saw the Chargers fall to South Lakes in the title game before losing to Patrick Henry in a quarterfinals state playoff game.
One year earlier, in 1991, Chantilly, in former coach Mark Martino's final season, defeated West Springfield in the region finals before losing to Bayside (Virginia Beach) at states.
Chantilly's first state playoff appearance came in 1989 under Martino. That Chargers' squad, after losing to a South Lakes team led by legendary Northern Region player Grant Hill, went on to fall to Petersburg in a first round state affair.
So, this Saturday, Chantilly will be looking for its first-ever state playoff win after three previous first round losses.