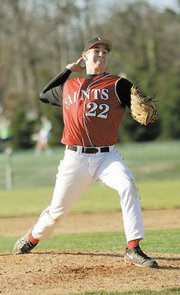 With the St. Stephen's/St. Agnes baseball team comfortably ahead, the only thing in question on March 18 was whether Saints pitcher Joe Warren could hold Bishop Ireton hitless for one more inning.
It was the top of the seventh at SSSAS and the sophomore ace had struck out 12 and walked just one. He needed three outs for the second no-hitter of his life — first as a Saint.
"I was sitting there so nervous," he would later say. "I was like, 'Ahhh, I have to go out there and do it again.'"
Right fielder Andrew Selby led off the seventh for Ireton. He became strikeout victim No. 13.
Shortstop Lem Zeigler was the next Cardinal to take a hack. He grounded out to Warren.
Second baseman Brian Lewis then entered the batter's box as Ireton's final hope. Two balls and one strike later, Lewis made contact — ping! — sending skyward what appeared to be a harmless infield pop up. But the ball was dropped by a Saints infielder, allowing Lewis to reach on an error while bringing Ireton third baseman Wes Jenkins to the plate.
After a seven-pitch struggle, including a wild pitch that allowed Lewis to score, Jenkins lined the eighth pitch of his at-bat against Warren into right field for a double, ending the right-hander's hopes of a no-hitter.
Warren then allowed an RBI double to Andrew Bladen and was pulled from the mound. He finished the game as the team's right fielder and the Saints went on to win 9-2.
After the game, the sophomore was disappointed, but handled the situation with class and poise.
"I wish he would have caught it," Warren said of his teammate, "but he's been playing [well] for us for awhile and he had a couple key hits so I can't really get too angry."
St. Stephen's/St. Agnes catcher Josh Smith spoke highly of Warren's mental and physical maturation.
"He was throwing it hard, hitting his spot — he probably missed his spot once every two innings," Smith said. "… He's made a lot of progress since last year: put on velocity, commanding the zone. He's got great poise out there."
The Saints blew the game open in the bottom of the sixth inning. Leading 5-0, Smith belted a three-run triple. David Bell had two RBIs early in the game for the Saints and Kendall Smith had one.
Warren and Smith said their goal is to repeat as Interstate Athletic Conference champions.
Ireton has reached the Washington Catholic Athletic Conference final each of the last two seasons but this year's team returns only one starter.
"We're a young team and we're going to go through some growing pains," Ireton coach Michael Gallagher said. "… It was nice to see the boys continue to compete."