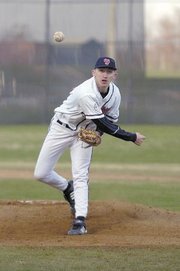 W.T. Woodson head baseball coach Chris Warren enjoys a luxury some Northern Region teams can only dream of — a deep bullpen.
Instead of relying on one pitcher to carry the team, Warren has a group of four juniors he expects to carry the load for the Cavaliers this season.
"We are pretty confident with whoever we send out there at any time." Warren said. "We don't consider one pitcher to be our ace, but we have a core group of young pitching that we are very confident with."
The junior pitching core is led by Tyler Wislocki, Tyler Hough, Joe McGillicuddy and John McGillicuddy and on March 27, the Cavaliers used Wislocki's arm to defeat Chantilly 6-2.
With temperatures nearing the low 40s and inclement weather approaching, Wislocki managed to keep scoring low, allowing his defense to secure the victory and defend a late lead.
"Tyler had a nice outing for us," Warren said. "We played tight, had good defense, and relied on a late hit to solidify the win."
The addition of a strong pitching rotation comes at an opportune time for the Cavaliers. After earning a 11-13 record in the Liberty District last season, the Cavs are hoping their pitching can serve as the team's foundation this season.
A major part of that foundation is the talent Joe and John McGillicuddy bring to the team.
The McGillicuddy twins have been receiving attention around the area since they burst onto the scene as freshman, but their impact isn't felt just on the pitching mound.
John McGillicuddy, who has a slightly larger frame then twin brother Joe, is an everyday infield starter when not pitching.
"Joe is more of an overall pitcher than his brother, but both contribute in their own way", said Warren.
While John McGillicuddy provides defense on the mound and in the infield, Warren said the brothers have a competitive drive that helps fuel the team.
"They are very competitive with each other," he said "It's almost like they are coaching each other."
While the Cavaliers are currently enjoying a 3-0 record to start the season, their spring break tournament was cut short by rain on March 29.
The W.T. Woodson baseball team returns to action on April 7 against West Springfield in the Cavs' second Patriot District match of the season.