Fairfax — On Thursday morning, May 26, 29 senior athletes of W.T. Woodson High School signed on to 22 colleges in 12 different sports, completing the final task of accepting a college's recruitment to play for their new school while studying in higher education.
"I've definitely learned all the normal things like leadership, communication and determination," Melissa Vinall said, going on to play lacrosse at the University of Mary Washington. "Mostly, I've learned really how hard it is to be able to lose games and just pick yourself backup again. Because you can't quit. You have to keep going. So I've really gotten a strong sense of how that relates to real life. You win some, you lose some, but you have to keep going."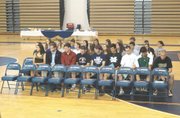 Dan Checkosky, Woodson's director of students activities, spoke about how the Cavaliers' athletes have learned about success and failure, joy and hardships, gains and losses, and what it meant to be a part of a team.
Each coach then spoke and had nothing but praise for each of their athletes as they recalled fond memories and gave advice about their future while parents listened, smiled, and applauded for each student moving on.
"I anticipate success," Joseph McGillicuddy said, going to Marshall University with his brother John to play baseball. "Freshman year we're going to have to catch up with the game because the college game is so much faster, so freshman year we plan on furthering our game a lot more. Sophomore year we will hopefully contribute to the team and get somewhere."
The students have their hearts set on having the best sports experience possible while weighing in on the opportunities that come with attending college.
"I chose American University because, first of all, it's a great education, I like the campus and I like the school," John Schoof said, heading to AU to play basketball. "And I really like the coaches and the basketball program they built there. I feel I could be successful there and hopefully play a lot."
Marina Randall has her sights set high as she plays tennis at Methodist University N.C., wanting to study either professional tennis management or sports medicine.
"They have a great program in professional tennis management, and it's one of three schools in the country that has that," she said. "I would go there either for sports medicine, because they have a great sports medicine program and a great tennis team, or for the professional tennis management. It just seemed like an all around fit for me."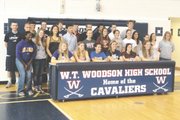 As for playing on Woodson's tennis team, Randall said: "It's definitely taught me how to be a team player. Our Woodson team was really like a big family, so it really helped with playing on the court, and off of the court it was really just a great experience to have that whole family, surroundings, and environment."
Each team means a lot to the players as they move on further into academia. They made family ties and went through countless wins and losses.
"The baseball team was my family for high school," John McGillicuddy said, "Even though we're going to college, we have a bunch of guys on our team that are going to college to play baseball, so we can always check up on them and see how they're doing and just motivate one another to do better."
Through their sports experiences, the athletes learned how to live strong and successful lives on and off the court, field and range. They anticipate opportunities to excel in their education and sporting careers.