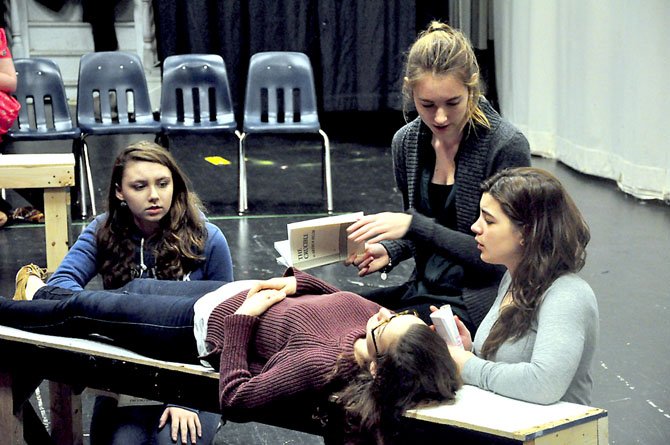 McLean — When it came time to present their Spring show, Arthur Miller's "The Crucible," the Langley Theatre Department decided to think a little inside the box. A black box theater, that is.
Student's will perform the 1952 play, which tells the story of the Salem Witch Trials, with the audience in seats onstage with them, giving the play a much more intimate feel.
"We've never done a black box before, so this is definitely an experiment," said senior Alex Lichtenstein. "I think it works for this kind of play, a lot of the outbursts will get a reaction, and the audience should get a sense that they're in the same room."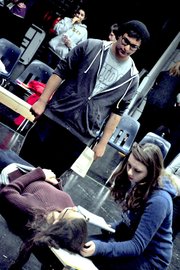 The show will be Langley's Cappies show, which means it will be viewed by critics from other area high schools for the annual theatre competition.
"It's been an exciting experience," said senior Kevin Nejad, who plays Thomas Putnam. "There's a lot of emphasis on things like facial expressions, because people will be able to see that more clearly, rather than just projecting your speech."
Senior Jack Sullivan, who plays Giles Corey, says he's never experienced anything like it as an actor.
"I've never had my back to the audience before," he said.
The play tells the tale of the hysteria that gripped a small Massachusetts town in the late 17th century which led to many executions by a Puritanical society fearing infiltration by the devil.
"It's a classic play, and I like the idea of everyone feeling as though they're being deceived, that you don't know what the truth is," said senior Justin Cecil, who plays Judge Hathorne.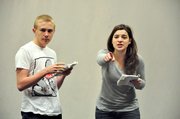 After a questionable ritual leads to girls in the town falling ill, residents both male and female fall under suspicion of being involved in witchcraft.
Senior Taylor Goodson, who plays Elizabeth Proctor, said the play was a change of pace for her.
"Comedy is my forte, so I wanted to dive into something different, because change is good," she said. "It's different because comedy uses a lot of facial expressions to get the point across, but here more is less. It really opened my eyes to the dramatic side, where my character is very subtle, she's quiet and never comes out and says what she is feeling."
The Langley Theatre Department will perform Arthur Miller's "The Crucible" April 19, 20 and 21 at 7:30 p.m. All shows will take place in the Langley Auditorium.
Seating is limited because the show will be performed in a black box theater style. Tickets can be purchased at www.saxonstage.com.