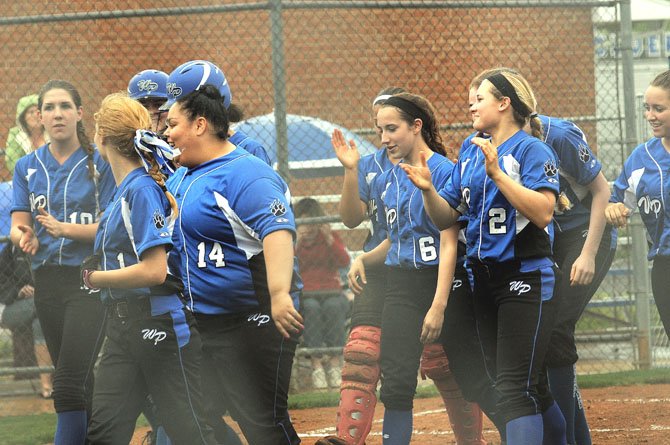 The West Potomac softball team concluded its appearance at the Madison spring break tournament with three consecutive victories, improving its record to 9-1.
The Wolverines defeated Annandale 10-3 on March 31 and beat Mount Vernon (6-0) and Lee (11-10) on April 2 at Madison. West Potomac started the tournament with a 15-1 home victory against Edison on March 24, and suffered its first loss of the season against Centreville, 9-7 on March 31 at Madison.
West Potomac is averaging better than 11 runs per contest and has scored at least 10 in seven of 10 games.
The Wolverines are 4-0 in the Patriot District and will play at 6:30 p.m. on Wednesday, April 11 at home against defending champion South County. Two days later, West Potomac will travel to face Lake Braddock.
West Potomac Girls' Lax Undefeated
The West Potomac girls' lacrosse team is off to a 5-0 start, including a 13-12 victory against Annandale in the Patriot District opener on March 28. Jordyn Elliot scored four goals for the Wolverines, while Liz Quin, Emily Hauptle and Madison Condon each had two. Nicole Farino, Annmarie Wood and Karley Zdebski each had one.
West Potomac returns to action at 7:15 p.m. on April 13 at home against Lee.
Mount Vernon Boys'Soccer Wins 3 Straight
After a season-opening tie against T.C. Williams, the Mount Vernon boys' soccer team won its next three games, beating Westfield (3-0) on March 22, Wakefield (7-0) on March 27 and South Lakes (3-2) on March 29 to improve to 3-0-1.
Amardo Oakley, Rahim Dorsey-Costa and Simond Kargbo scored goals against Westfield, Dorsey-Costa, Kargbo, Foday Sillah, Patrick Sedjro, Bryan Castellon, Hatzael Diaz and Erik Rodriguez scored against Wakefield and Kargbo, Dorsey-Costa and Rodriguez scored against South Lakes.
Mount Vernon will return to action at 7 p.m. on Tuesday, April 10 at home against Yorktown.