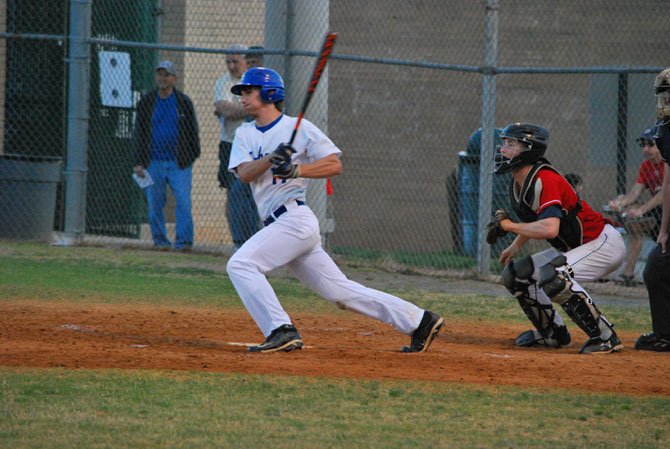 The Herndon High baseball team is spending its spring break week competing in a tournament in Myrtle Beach, S.C. The Hornets, who won their first three games of the season prior to making their trip down south, saw their record improve to 4-0 with a 13-5 win over Monticello High (Charlottesville) this past Saturday, March 31 in its first of three scheduled games in the Gamecock state.
Herndon was scheduled to play games versus Pickerington High School North (Ohio) at 8 a.m. on Tuesday, April 3 of this week, and Hancock County High (Lewisport, Kent.) on Thursday, April 5 at 3 p.m. Herndon's spring break games are taking place at Griffith Stadium at the Cal Ripken Experience facility in Myrtle Beach.
In the win over Monticello, a Region II member of the Jefferson District in Virginia, Herndon scored four runs in the first inning before breaking the game open with seven more in the fourth inning. Herndon starting pitcher Zach Wallace pitched six strong innings to earn the win for the Hornets. Addison Wright wrapped things up with one inning of relief work in the seventh.
In Herndon's four-run bottom of the first inning, Hornet highlights included an RBI single by Parker Hill and a pair of double steals by Herndon base runners.
Monticello scored three runs in the top of the third inning to get within 4-3. But Herndon blew the game open a little later in the bottom of the fourth. The big base hit of the inning was a bases-clearing, three-run double to deep left center field by Austin Schnarrs (3 hits, 4 RBI).
Monticello, trailing 11-3, scored two runs in the fifth. Herndon tallied single runs in the fifth and sixth, the latter on an RBI single by Wright (3 singles, 2 RBI), to create the final score.
Matt Smith had three hits for Herndon and Hill had two RBI. In all, the Hornets knocked around 16 hits in the win.
Through Herndon's first four games this spring, Schnarrs was batting a team-leading .667 with nine RBIs and a home run. On the pitching mound, the Hornets were receiving solid production from Wright, Zach Wallace, and Tyler Reif.
The spring break games will be a nice prep for Herndon's tough, upcoming Concorde District schedule which will begin next week with a pair of games versus visiting Oakton on Tuesday, April 10 and at Centreville on Friday, April 13. The Hornets, in between those two district games, are also scheduled to play at home versus non-Northern Region opponent Loudoun Valley High on Wednesday, April 11.
"I think our district is going to be very tough and any team is capable of winning it," said Herndon head coach Greg Miller, whose team enjoyed a winning season last year. "At the end the team that has the best pitching and defense will probably win the district. I think we are very capable of winning the district this year but every night will be a battle. Any team in our district is very capable of winning it all."
Prior to its spring break trip, Herndon had opened the season with three wins - 13-3 over local rival and host South Lakes on March 16; 10-0 over visiting Broad Run on March 19; and 8-2 over the same Broad Run team in Ashburn on March 26.
South Lakes Baseball Notches First Win of SeasonAfter losing a lopsided Liberty District game at McLean High on March 20, the South Lakes Seahawks bounced back with an exciting come-from-behind 6-5 win over visiting district opponent Thomas Jefferson High on Friday, March 23. The Seahawks, who improved to 1-2 with the victory over the Colonials (1-2), trailed 5-1 in the third inning against Jefferson and starting pitcher Michael Chan.
But South Lakes stormed back with a multi-run bottom of the third inning, a key hit coming on a two-run homer by senior Billy McLaughlin. Other big at-bats in the inning came from junior Hayden Hall, who knocked a sacrifice fly, and freshman Kyle King, who hit a game-tying RBI single.
McLaughlin (1-1), the Seahawks' starting pitcher, responded to his team's four-run rally with consecutive 1-2-3 innings, throwing only six pitches in each stanza. After escaping a jam in the top of the sixth inning, the Seahawks, in a 5-5 tie, scored the game-winning run in the bottom half of the sixth on an RBI double by McLauglin.
The Seahawks' sixth inning opened with a leadoff single by sophomore Justin Cosing, who then stole second. That was followed by McLaughlin's RBI two-bagger.
On the mound, McLaughlin had a strong outing, shutting down Jefferson over the final four innings and earning the complete game win.
The Seahawks are a young team, comprised of six freshmen and sophomores, but veteran head coach Galvin Morris has the resilient team playing inspired baseball.
Friday was the second of four 'Free Admission Friday' games this spring season at South Lakes, where youngsters wearing their official Little League or Cal Ripken League game jerseys, or sporting South Lakes' blue and green team colors, are admitted free with a paying adult. The next 'Free Admission Friday' is scheduled for April 13 when South Lakes will host district opponent Fairfax High. Adding to the special Friday night game versus the Rebels, South Lakes and its fans will celebrate 'Youth Baseball Night,' with youth players getting into the game for free as well as enjoying special activities and giveaways.
SOUTH LAKES, following the comeback win over Jefferson, had good momentum and nearly defeated red-hot Langley four days later, losing 6-5 in the district home game played on March 27.
For the first time all season, South Lakes got off to a good start in the Tuesday night game. Senior pitcher Ryan Forrest had an impressive first three innings of work, shutting down the Saxons (4-2) with no runs, two hits and four strikeouts. He was helped defensively by a diving catch from his brother, sophomore right fielder Josh Forrest, to end the second inning.
It was Josh who opened up the game's scoring in the bottom of the third inning when he crossed home plate on a double by senior Billy McLaughlin. Senior Austin Schweppe followed that with an RBI single to give the Seahawks a 2-0 lead.
The Saxons stormed back with six runs in the top of the fourth inning thanks to a combination of key hits and some defensive lapses by the home team. The Seahawks pitching settled down the rest of the way with two shutdown innings of relief by freshman Matt Wojciechowski that kept the Seahawks in the game. South Lakes rallied in the sixth inning with five consecutive hits, including an RBI single by Josh Forrest and an RBI double by freshman Kyle King. But South Lakes could not plate the tying run in the inning and Langley held a 6-5 lead through six innings.
The Seahawks threatened again in the seventh, putting runners on second and third with one out thanks to a double by junior Austin Gibbons and a Saxon error, but Langley's relief closer came in to strike out the final two South Lakes batters and the guests escaped with the victory.
South Lakes (1-3) is competing at the 2012 BATRUP Tournament in Hilton Head, S.C., over the current spring break week (April 2-6). Next Tuesday night, April 10, the Seahawks will play a district home game versus Stone Bridge at 6:30.