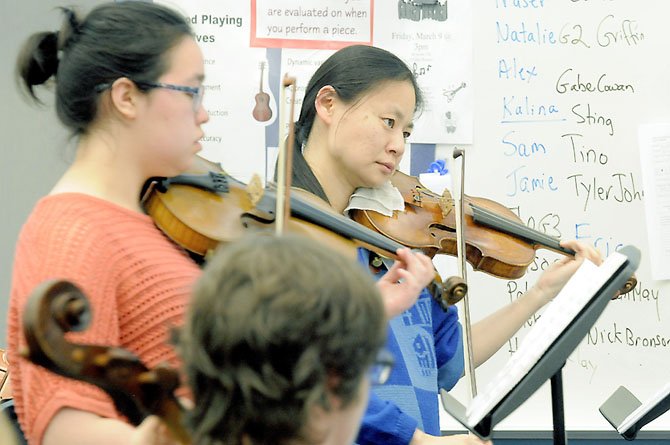 World-renowned Japanese-American violinist Midori brought her Orchestra Residencies Program to Arlington and Alexandria this year as part of March's Arts in the Schools Month this past week. Midori established her Orchestra Residencies Program to support and encourage youth orchestras in the U.S. Each year, two youth orchestras are chosen by an independent committee for week-long residencies by Midori, who collaborates on a wide range of activities with both the youth orchestras and their partner professional orchestras.
On Tuesday evening, March 27, violinist Midori and USC graduate student Moni Simeonov coached and rehearsed with the students and soloists in the Arlington Youth Symphony at Yorktown High School. The students were preparing for a special Friday evening youth orchestra performance at T.C. Williams High School with Midori featuring TC Chamber Orchestra performing J.S. Bach's "Double Violin Concerto" and the Arlington Youth Symphony performing Antonio Vivaldi's "Concerto for Four Violins."
In addition to the rehearsal at Yorktown, Midori and Simeonov traveled and rehearsed with the Minnie Howard Orchestra in Alexandria, the Wakefield High School Orchestra, the Washington-Lee Orchestra, the Yorktown and H-B Woodlawn Orchestras and the T.C. Williams String Orchestra, Chamber Orchestra and student soloists. A masterclass for Arlington and Alexandria High School students was also held on Thursday. The violinist finished off the weekend performing two sold-out concerts with the Alexandria Symphony Orchestra on Saturday and Sunday.