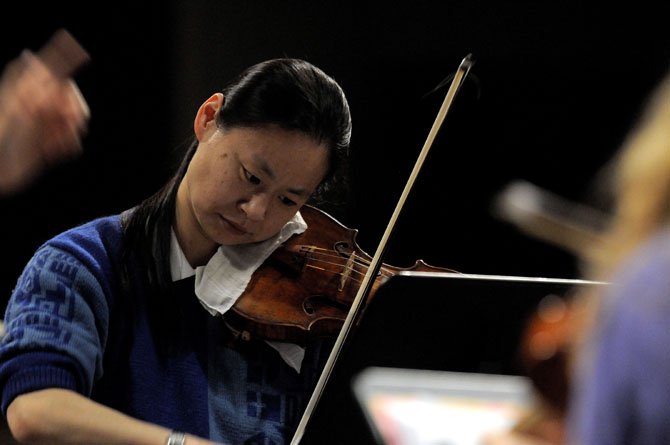 It was the chance of a lifetime for members of the T.C. Williams High School youth orchestra as world-renown Midori spent March 27 coaching aspiring musicians as part the legendary violinist's week-long Orchestra Residencies Program.
"This was an exciting day," said Midori, who selected Alexandria as one of only two communities in the nation to participate in the outreach program she founded in 2004. "This is the whole purpose of being here — working with the students and making music."
As part of her ORP initiative, Midori is spending the week in Alexandria and Northern Virginia collaborating with local youth and adult orchestras, visiting public schools and meeting with community leaders to advance the cause of music and arts education.
Her schedule included a breakfast with business leaders March 28 at Jack Taylor's Toyota that was followed by a visit to Wakefield High School in Arlington and a night of rehearsals with the Alexandria Symphony Orchestra at Schlesinger Hall, where she will perform in concert March 31 and April 1.
A Japanese native, Midori first picked up a violin at the age of 3 and was performing with the New York Philharmonic at the age of 11. On March 30, she will take to the stage at T.C. Williams, where she will be featured in collaboration with several student soloists in a performance of J.S. Bach's Concerto for 2 Violins in D Minor and Vivaldi's Concerto for 4 Violins in B Minor, Op.3 #10.
For her performance with the ASO, Midori will join Maestro Kim Allen Kluge in a program that includes the Firebird Suite by Igor Stravinsky and Mendelssohn's Violin Concerto in E Minor. The ASO will also be performing the world premiere of a new composition by music director Kluge to remember the victims and survivors of the 2011 earthquake and tsunami, entitled MEIBUKI - Regeneration.
To culminate Midori's week-long residency, the Alexandria and Arlington students participating in the program will join the ASO onstage in a performance that will also feature the Arlington Children's Chorus.
Considered one of the finest violinists of her generation, Midori has been consistently honored for her significant contributions to music education, notably by Secretary-General Ban Ki-moon, who named her a United Nations Messenger of Peace in 2007. Her ORP program, in which Midori hopes to increase the community profile of youth orchestras, is substantially subsidized by Midori herself.
"We are very honored and excited to have her here with us," said ASO Executive Director Adrien Finlay. "She's a magnificent and exciting violinist and an inspiration for the young musicians of our community."
For tickets to Midori's performance with the Alexandria Symphony Orchestra March 31 and April 1, call 703-548-0885 or visit www.alexsym.org. For more information on Midori's Orchestra residencies Program, visit www.GoToMidori.com/orp.
More like this story