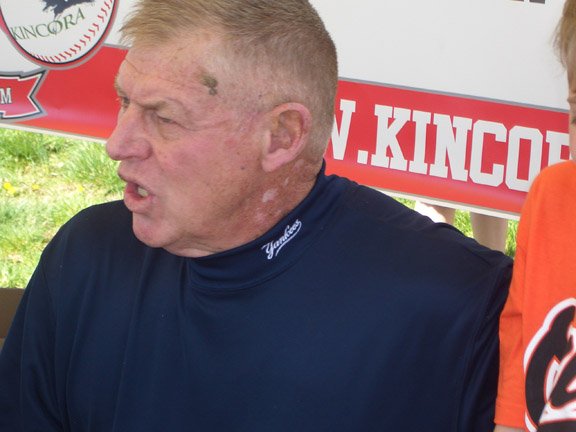 Vienna — I did not grow up as a Reds' fan. In fact, Cincinnati's great Big Red Machine caused me great heartache when, as a 12-year old boy growing up in Northern Virginia, I watched on TV as my favorite team, the Red Sox, lost to Sparky Anderson's crew, 4-3, in Game 7 of the 1975 Fall Classic. I had been ecstatic after Carlton Fisk's 12th inning game-winning home run had given the 'Sox a 7-6 win in Game 6. But following the Game 7 loss, in which my favorite player, the great Carl Yastrzemski, flew out to end the game in the bottom of the ninth inning at Fenway Park, I was in tears – a broken kid.
I had become a Red Sox fan a few years following the departure of the Washington Senators to Texas following the 1971 season. I had followed the Nats' with true boyish enthusiasm for several years in the late 1960s through their final season in D.C. One of the best gifts I ever received as a kid was a Topps baseball card set of the Washington Senators players. My first major league baseball game, probably in 1969 or '70, was at Robert F. Kennedy Stadium, a Senators home game against the Red Sox. This was prior to my days as a Bosox fan. I recall physically imposing Senators outfielder Frank Howard, my first baseball hero, making a great catch in the outfield. I also vaguely remember Red Sox player Reggie Smith doing something spectacular, although I can't recall if it was at the plate or in the outfield.
Around the D.C. metropolitan area, we were all crushed when the Senators left for Texas. With time, I followed the near-by Orioles in Baltimore. Most of my firsthand, live baseball game attending experiences in my teen years came at Memorial Stadium in Baltimore watching the Orioles. I recall one Opening Day in Baltimore when snow flurries fell as Baltimore took on Toby Harrah and the Rangers. I also remember taking in a dramatic double-header late in the 1982 season when the Birds, under feisty manager Earl Weaver, swept Milwaukee as both teams were vying for the American League East crown.
But in my heart, while I followed the Orioles, I was a devout Boston fan. My dad, sometime in the early '70s, had taken a business trip to Boston and brought me home a book titled, `Yaz', written by Al Hirshberg (Viking Press). The book, in Yastrzemski's own words, painted a picture of the left-handed star outfielder's rise to stardom from his days growing up on a potato farm in Bridgehampton, N.Y. to stardom in Bean Town. I read about the miraculous 1967 season when the Red Sox, who had been one of the worst teams in baseball the year before, became American League champions.
From that point and onward upon reading the `Yaz' story, I became a Red Sox fan and have suffered, exalted, and at times lost my mind because of that team.
When Washington returned to the major leagues as the Nationals in 2005, I jumped on that bandwagon and have been a fervent follower in their seven seasons of existence. But my true baseball love is still the Red Sox.
How do the Reds fit into all this? It's simple. When I was fortunate enough to start covering a minor league Reds' affiliate for a publication called `Reds Report,' a monthly publication out of Columbus, Ohio, back in 2003 – I can't believed it was that long ago – I began following the Reds as a fan as well. Reading the Reds Report, I became better acquainted with the Cincinnati ball club, its storied past, exciting present and hopeful future. Soon, over the course of a baseball season, I found myself checking up on and keeping a watchful eye on the Reds through ESPN, the local box scores, and on TV or the radio when they played the Nationals.
With time I was following Cincinnati regularly. Now, I read Reds Report and check up on Hall of Fame sports writer Hal McCoy's columns both in the Report and online on the Dayton Daily News website. I love following the team and seeing youngsters whom I have followed in the Reds' minor league system move up. I was thrilled when outfielder Chris Heisey, who attended the same college I did (Messiah College, Grantham, Pa.), made it to the Big Show with the Reds.
Back in 2001, prior to my days following Cincinnati, some friends and I made a baseball trip late in the season following the Sept. 11 attacks. One of our stops was to Riverfront Stadium for a Reds game. I recall being so excited at being in the grand old park that, with Ken Griffey, Jr. at the plate, I called my younger brother Dave, who was back in Virginia, on my cell phone from my seat (right field bleachers I believe). The cell phone was a novelty to me at the time and I could hardly believe I could talk to someone on it from a stadium. I said to my sibling, `Guess where I am and who I'm watching?"
My only other trip visiting Cincinnati to see the Reds play came a few years later in late June of 2004. I couldn't believe how beautiful Great American Ballpark was. We had, for a Friday night game versus Pittsburgh, first row, upper deck seats down the left field line and I recall Wily Mo Pena belting a seventh inning grand slam home run in a 6-4 Reds win. The following afternoon, Griffey was honored in pre-game ceremonies for the landmark 500th career home run he had recently hit. In the ensuing game, in front of another sellout crowd, the last place Bucs topped the Reds 1-0. I celebrated my brief visit to see the Reds by buying an authentic Reds jersey with Sean Casey's name on the back.
To this day, I closely follow four teams – the Reds Sox, Nationals, Reds, and Orioles. Some of my friends think it strange I root for four teams. There are only a few occasions over the course of a season in which all four clubs win on the same day. But having four teams to cheer on is fun as can be and makes for some great summer time thrills.