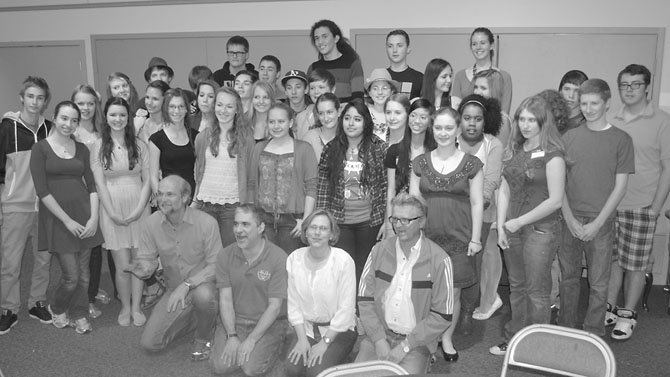 Alexandria — If it is Spring Break, graduation must not be far away. Congratulations are definitely in order for 10 T.C. Williams seniors who started out their ACPS careers at James K. Polk Elementary School as kindergartners. These Owl-Titans are: Michelle Avila, Haley Cooper, Abby Cox, Phillip Espinoza, Tiffani Gibson, Sam Jones, Layla Mustafa, Franz Vosseler, Rebecca Wood-Conover and Scott Young. Well done!
It seems that this is the year for international adventure for our neighbors (remember Mia Brown, still ensconced on her Semester at Sea?). In what they characterize as the trip of a lifetime, Rebekah Hersch and Howard Frank of Pickett Street recently returned from a wide-ranging trip to Israel. The trip, co-sponsored by Agudas Achim Congregation and Westminster Presbyterian Church, was a natural outgrowth of a deep friendship, inspired as they shared worship space during large construction projects. Thirty-two intrepid souls went on the trip, which, because of the interfaith nature of the group, was wide-ranging.
Rebekah reports that the group started out in the north, taking in chocolate, wine and historic sites, and even a Jeep trip along the Golan Heights and a peek across the border into Syria. Five days in Jerusalem were spent visiting various historical sites, including the Kotel (The Western Wall) and Yad Veshem (The Holocaust Museum). The trip was not limited to sightseeing; the group met with several notables who represent modern Israel: a Christian reporter for the Guardian Newspaper, a teacher of Sufi Muslim, the Mayor of Sderot (the target of Gaza rockets for many years), educators of poor children of all faiths in the city, and amazingly, the Prime Minister of the Palestinian Authority, Salam Fayyad.
Rebekah and Howard especially enjoyed their time in modern Tel Aviv, with its lively nightlife and student culture. They marveled at the diversity of views among the people they met and the complexity of possible solutions facing Israel. Finally, they even survived the loss of Rebekah's purse (and its miraculous return by a kindly doctor who arranged for the item's speedy but circuitous delivery from the airport to its owner). Not enough space for that story here!
Last but certainly not least … a warm Seminary Valley welcome to Jillian Grace Dundon of Polk Avenue. Jillian joins brothers Jackson and Mason and will add a little "pink" into parents' Jimmy and Kristin's spring of 2012.
More like this story