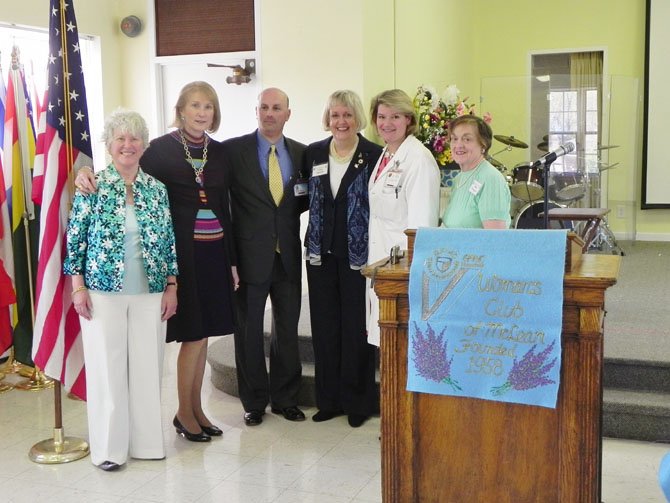 McLean — On Tuesday, April 3, representatives from Virginia Hospital Center addressed the Woman's Club of McLean on the hospital's new Reinsch Pierce Family Center for Breast Health. The center, which in 2011 received a significant gift from the locally based Reinsch Pierce family, is an advanced facility that offers patients all necessary medical, surgical and related services "under one roof," and has a staff specifically dedicated to breast health, according to the speakers.
Speakers included Dr. Molly Sebastian, one of three breast surgeons on the center's staff, and Steve Rubloff, the hospital's vice president and chief development officer.


BENEFACTOR LOLA REINSCH also spoke, noting her appreciation of the hospital's high-quality healthcare over many decades and her family's regard for both the hospital and the Arlington community since moving there in the 1940s.
Hospital vice-president Rubloff spoke first, describing Virginia Hospital Center as a community facility founded in the 1940s and still owned by the community. He stressed that it is the only hospital in northern Virginia that is not part of a system (like Inova or Johns Hopkins, for example). "That's our strength," he said. "We can move quickly and nimbly to meet the needs of our community," and being independent allows the hospital "to bring world-class care into our own backyard." Because it is also not-for-profit and relatively small, the impact of philanthropy on it is "huge," he noted, allowing it "to invest in technology and support services that are not available elsewhere." He said the hospital has the best breast health center on the East Coast and one of the three best in the country.
Rubloff noted that the philosophy of the hospital is "world-class care. It's not good enough just to be great; we want to be the best," with top-notch physicians and facilities. He also stressed the advantages of having all facilities needed for breast health care in one location. For cancer treatment, he said, this is "particularly important," as patients and their families can remain together in the treatment area.


BREAST SURGEON Dr. Molly Sebastian, who spoke next, said that "what's so satisfying" about practicing at the Center for Breast Health is that it is multidisciplinary. "To take care of breast cancer in 2012, you have to have experts who are staying current in the latest research and using the latest technology," she said. Sebastian and her two breast surgeon colleagues meet weekly with other breast cancer specialists, such as radiation and medical oncologists, to discuss their patients and optimize their care. Thus, they can use the latest research to care for patients. This has been especially important given the continuing developments in radiation oncology.
Sebastian added that the hospital's staff has a reputation for friendly, helpful and considerate care. She noted the Breast Health Center's free, one-on-one counseling service for patients, commenting that "cancer never comes at a good time."
"It's so very satisfying as a physician, Sebastian concluded, "to look patients in the eye and tell them that 'you are going to be so well cared for, and at any point if there's any issue, I would like to know about it and I will follow up on it.'"