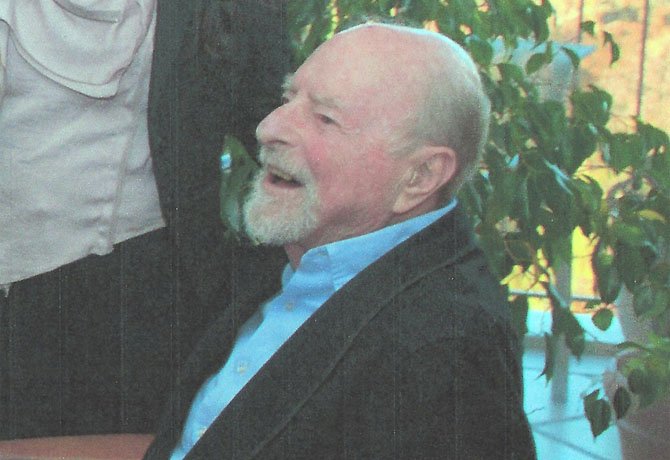 Everybody knows Robert E. Simon, Jr. After all, he is Mr. Simon the visionary, the master urban planner and real estate developer. And after all, that's how Reston got its name, right? Robert E. Simon. Therefore, RESton. And everybody knows the legend of how he planned and developed Reston, and how he still lives in and at 98 continues to contribute significantly to the community. But how many really know about Bob Simon, the man?
Did you know that Bob so respects education that he can still tell you the names of all of his elementary school teachers? Did you know that he once worked on a ranch in Arizona? Can you imagine the pain of losing your father at age 21? I had lunch with Bob and learned that there is a lot of story behind the legend.
Bob grew up in New York, right in Manhattan. His family had a summer house in Bay Shore, Long Island until 1920 and his father was a well-known real estate investor in New York City. One of four children, and the only boy, he spent his summers in a variety of settings, including a couple of summers on a ranch in Arizona. Once his family stayed in Europe for 15 months.


BOB'S BOYHOOD HEROES were never investors or developers. Rather, they were tennis legends like the American Don Budge, 1938 Grand Slam Winner. But even before Budge, Bob appreciated the many French stars of the late 20s, such as Rene LaCoste and Henri Cochet, and later, the English champion Fred Perry. Bob was present at Forest Hills during the 1936 championship match between Perry and the young Budge that went to match point several times before being won by Perry. Thereafter, Budge was to become the dominant name in tennis. As Bob recalls, "That was back when tennis was dignified, back before John McEnroe and others, back when the umpire was respected and always right."
Bob continued his interest in tennis for many, many years, playing on the early Reston team and enjoying the sport until, as he puts it, "My knees and elbow retired."
After graduating from college at age 21, Bob was on a bicycle tour in England when he received a cable from New York: His father had just died and he returned to the United States at once.
It was 1935 and America was in the midst of the Great Depression. Despite enormous pressures, Bob's father had been surviving financially, even taking on paying trusteeships of two major hotels to help with the dwindling cash flow. But now, young Bob had to take over control of the family business. The first task was to ward off foreclosures, as none of the properties were even paying the mortgage charges. He lost two properties to foreclosure, but managed to retain all the others. (Interest back then was around 1.5 percent.) He used the proceeds to amortize the mortgages after paying his company a management fee.
Next came a review of the financial status of the corporation. To his amazement, he learned in his second year that, in his position as the president of the famous concert venue Carnegie Hall, the executive vice president of the company was embezzling funds. The Carnegie Hall Board of Directors comprised of Bob's father's friends — two judges and three lawyers. In a direct confrontation, young Bob presented his findings to all these older, experienced professionals. The result? The Board elected Bob as the new president.
When WWII erupted, Bob volunteered for the army. He was a private for three months, an acting corporal for another three, and spent the next three months going through OCS (Officer Candidate School) at what is now Fort Lee, Va. He became an officer in the Quartermaster Corps and served for four years. Assignments in Kansas City, Omaha, and Ann Arbor came next, followed by Europe for two years, mainly in Brussels and ending in Paris. A trusted friend and attorney, a Carnegie Hall Board member ran the family company during this time.


More on Founder
*The first Founder's Day was celebrated on April 17, 2004, on Reston's 40th Anniversary.
*Sunset Hill Farm was the name of the land where Simon was later to build much of Reston.
*Simon moved back to Reston in 1993; he had been living on Long Island.
*Reston was designated a national planning landmark by the American Institute of Certified Planners back in 2002: The group said that Reston was "one of the finest examples of American 20th Century conceptual new town planning" and that Bob Simon was a pioneer in the field.
*Simon bought 6,700 acres of farmland in 1961.
*Financial problems in the mid-60s prompted Simon to sell Reston to Gulf Oil.
*The remaining undeveloped land was then sold to Mobil Land Development Corp, who developed The Reston Town Center.
*Finally, Terrabrook became the developer of the remaining property, especially in the town center area.
*Simon is married to Cheryl Terio-Simon, an attorney, and they live in an apartment on the 13th floor of Heron House, overlooking Lake Anne.
*One of Simon's favorite phrases is biblical and states, "Where there is no vision, the people perish."
AFTER VE DAY IN 1945, while still in Europe, Bob received monthly statements from his company in the mail. He again sat down to review the firm's books. This time he found discrepancies that led him to question the chief engineer of Carnegie Hall. He noticed that there were many extraordinary expenditures. For example, the amount of ice that had been paid for air conditioning looked problematic. Bills for 25 tons of ice had been regularly paid when he knew that the maximum capacity was only 20 tons. He had his proof. The statements clearly showed embezzlement. Again young Bob was correct and the engineer was fired.
As his career in real estate development matured in the 1950s, Bob was involved in many projects in California, Texas, Pennsylvania, and Canada, but nothing in Virginia. Then, in 1961 came the opportunity of a lifetime — to develop what we all now know as Reston. What followed is history, but not of Bob Simon the man, but of what became known as Robert E. Simon, Jr., the legend.