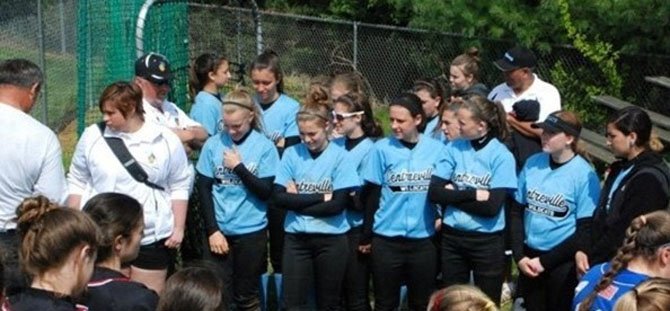 Centreville — Track and Field
By Monique King
Outdoor Track Season Opener: The Centreville High track and field teams opened their season in a tri-meet at Oakton High against division rivals Oakton and Chantilly on March 28. Wildcat coach Givon Holmes used the meet for an opportunity to look at the talent of new team personnel, as many athletes were participating in events for the first time. The highlights for the Wildcats included first place finishes from: Sara Emsley and Nathan Milton in the discus; Chris Jones in the triple jump; and Xavier Nickens in the long jump. Second place finishers included Amber Assadi in the 400 and Kris Watson in the girl's triple jump. Seo Hee Im and Maria Cowen finished third in the 100 and triple jump events, respectively. Third place finishers for the boys were Calvin Jones in the 400 and Mikael Mantis in the triple jump. The teams' next tri-meet was scheduled for this week on Wednesday, April 11th at home.
Centreville Relays: On Saturday, March 31, the track team hosted the 2nd annual Centreville Relays. The Wildcats represented themselves outstanding, while competing against a combination of Maryland and Virginia public and private high schools. There were several freshman-only races and Centreville athletes excelled in that division, with the freshman boys' team placing first and the girl's third.
Some of the highlights for Centreville were: a first place finish by McKinsey Smith (freshman girls 1600); first place by the Wildcats in the girls shuttle hurdle relay, made up of Sydney Evans, Hawa Koroma, Rachel Lee, and Lisa Dinschel; first place outing by the freshman boys 4x400 relay team of Freddy Meny, Rizky Said, Rizwan Said, and Michael Bishop; and a first place finish by the boys distance medley relay team of Chris Jones, Dan Molina, Chan Young Lee, and Alex Marmol.
Second place showings came from: the girls distance medley relay team of Isabella Medina, Kylie Cuomo, McKinsey Smith, and Natalie King; Bobby Dunn in the freshman boys 1600; and Mikeal Mantis and Zach Burton in boys' triple jump relay.
Philip Christophe and Kris Watson-Echevarria earned third place in the boys' long jump relay, with Christophe taking second place overall.
Leslie Sherman Invitational: Over spring break week, the Wildcats competed in the Leslie Sherman Invitational at West Springfield High School. Among the meet highlights were some outstanding performances in the discus event. Senior Sara Emsley won the girl's event and senior Nathan Milton was third in the boy's event. Other top finishers included: Chan Young Lee (second place in the 3200); Chris Jones (third in the 1600); and a third place finish by the 4x800 relay team of Chan Young Lee, Brandon Kim, Tony Dahbura and Kevin Nguyen. The boys' team secured an eighth place finish at the meet.
Softball: The Lady Wildcats' softball team participated in Madison High School's Spring Break tournament, playing games on March 24, 31 and April 2. The Wildcats dominated all games except the championship match against the tournament host as they secured second place overall for the event. The Wildcats resumed Concorde District play earlier this week on Tuesday, April 10 with a game at Robinson. They are scheduled to host district opponent Herndon High this Friday night, April 13 at 6:30.
Boys Varsity Lacrosse
By Eileen Balberde
Centreville High varsity boys lacrosse concluded a stretch of four away games from March 19-23. Through the duration the Wildcats continued their unbeaten status. On Tuesday, March 20, Centreville played T.C, Williams, beating the Titans 12-4. Junior attack Nathan Marks was the leading scorer with four goals for the night. Other Wildcats adding to the 12 point total were: Zack Sikora (3 goals), Andy Balberde (2), Tyler Vennergrund with (2), and Kevin Hagan (1). Assists were given by Zack Sikora, Andy Balberde, Kevin Hagan and Matt DeVera. Defenders Jake Hyde, Antonio Choi and Kevin Brawner were standouts during the game and helped goalie Kent Roy limit the Titans to a meager four points.

The Wildcats traveled to West Springfield High two days later on March 22 and beat the Spartans in a closer match, 14-10. Although West Springfield scored first, Wildcat Zack Sikora quickly answered with a Centreville goal and the Wildcats remained in control for the rest of the game. Once again, Centreville's goals were shared among this year's strong offensive lines. Attack Nathan Marks had five goals for the evening; midfielder Zack Sikora had four; Andy Balberde had two; and Kevin Hagan, Matt DeVera, and Tyler Vennergrund each had one. Assists were given by David Weisbrodt, Chase Heiner, Kevin Hagan, Andy Balberde and Zack Sikora. Centreville had a strong defensive showing with solid performances by Antonio Choi, Jake Hyde and goalie Kent Roy.

With barely 24 hours to rest up, the boys' varsity participated in the Mount Vernon High School Lacrosse Tournament on Friday night, March 23. During the first round of competition, the Wildcats played Marshall High and won decisively in a 16-7 match. Midfielders Andy Balberde and Zack Sikora, along with attack Nathan Marks, led the Wildcats in scoring with three goals each. Also contributing points to the scoreboard were midfielders Kevin Hagan (2 goals) and Chase Heiner (1). Attack scorers were Tyler Vennergrund (2 goals), along with Danny Meador and Andrew Belloli (1 each). Assisting the various goals for the evening were: Tyler Vennergrund (3 assists); Nathan Marks and Andy Balberde (2 each); and Kevin Hagan, Chase Heiner, Sean Doyle and David Weisbrodt with an assist each. Great goalie work came from junior Andrew Kelsey and junior Pat Prosser, who was loudly welcomed back from shoulder surgery and recuperation. Freshman Kainoa O'Connor showed strong defensive skills playing the long stick middie position. Junior John Clements and sophomore Kevin Hagan provided the Wildcats with consistent faceoff wins throughout the game.

THE SATURDAY RAIN and drizzle on March 24 was not a problem for the Wildcats varsity lacrosse team during the tournament's championship game against Lake Braddock Secondary. Despite the slippery and muddy conditions, the Wildcats defeated the Bruins, 12-5. Zack Sikora led the scoring with four goals; attack David Weisbrodt scored a hat trick with three goals; Kevin Hagan had a pair of scores; and Andy Balberde, Nathan Marks and Carson McEver each scored one goal for the Wildcats. Providing assists on the scores were Zack Sikora with five; Andy Balberde and Nathan Marks with two each; and David Weisbrodt with one. The Centreville team showed especially strong on `man down' play throughout the game. Defensive standouts were Kevin Brawner, Antonio Choi and Nick Ziegler. John Clements had another successful day winning face-offs.

Boys Varsity Soccer
By Coach Steve Lee
On Monday, March 19, the Centreville boys beat T.C. Williams, 3-1. Wildcat goals came from Louis Navarro, Brendan Miller, and Fernando Muzo. Connor, meanwhile, had a nice game with three assists, and Kurt Michaels had 16 saves in the net.
On Friday, March 23, Centreville played a 2-2 tie versus West Springfield High. Goals for the locals came from Brendan Miller and Andreas Garcia. Credited with assists were Andreas Garcia and Louis Navarro. Jason Hoerneke came up with 14 saves.
Girls Varsity Tennis
By Coach Leslie O'Connor
On Thursday, March 22, the Lady Wildcats' tennis team won their Concorde District match versus Herndon, 7-2. At No. 1 singles, Jamie Schoshinski played against a seasoned Hornet player, losing 10-5. Centreville singles victories came from No. 2 Sarah Alberstein (a 10-7 win); No. 3 Sapna Rao, who won 10-1; No. 4 Tanya Kumar, a 10-5 decision; and No. 5 Jessica Jassal, who took her match 10-3.
At No. 6 singles, Esther Yoon came from behind to win in a tie-breaker, 11-10.
In doubles play, Centreville's top seeded duo of Jamie and Sarah came close but lost 11-9. Both the Wildcats' No. 2 (Sapna and Esther) and No. 3 (Sue Jung and Sierra Dimmer) doubles teams won their matches, both by 10-5 scores.