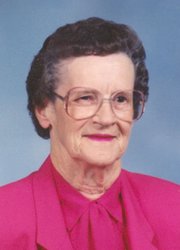 Irene Reid Jones, 89 of Martinsville, Va., formerly of Warrenton, died on April 1, 2012, at Landmark Center, Stuart. She was born on Aug. 14, 1922 in Fauquier County, Va., a daughter of the late Eppa Clark Reid and Maude Lillian Moffett Reid; predeceased by her daughter, Delores M. Jones; five brothers and three sisters.
Mrs. Jones worked as a contract negotiator with the U. S. Government living in Alexandria and Bethesda. Upon her retirement in 1973, she moved to Warrenton living here until moving to Stuart to be near her son.
She was a member of the Warrenton Baptist Church and NARFE.
She is survived by one son, James A. Jones, Martinsville, Va.; five granddaughters and nine great grandchildren.
The family received friends on Wednesday, April 4, at Moser Funeral Home, Warrenton, where funeral services were held on Thursday, April 5. Interment was at Bright View Cemetery.
Memorial gifts may be offered in Irene's name to the Alzheimer's Association, National Chapter Area, 3701 Pender Dr., Fairfax, VA 22030. Online condolences may be made at www.moserfuneralhome.com.