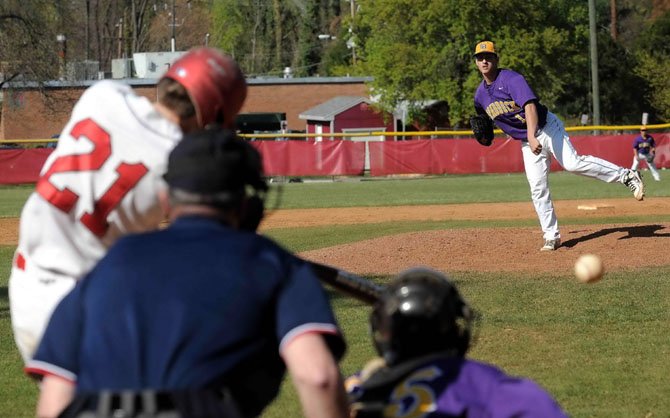 McLean — The McLean High baseball team handed previously unbeaten Lake Braddock its first loss of the season last week, 5-2, in a spring break tournament game played Tuesday, April 3 at McLean High School.
McLean, which received an outstanding outing from starting pitcher Brock Hunter, escaped two bases loaded scenarios and scored three times in a miscue-filled sixth inning en route to the win at the five-team tournament.
The Bruins entered the contest ranked No. 1 in the Northern Region Top 10 Coach's Poll with a 9-0 record. A day prior to the loss to McLean, Lake Braddock had defeated No. 2 Oakton, 2-0.
McLean, which is under head coach John Smith, jumped in front of the visiting Lake Braddock team 2-0 in the first inning before the Bruins tied the score at 2-2. But Lake Braddock, over the next several innings, could not take advantage of scoring opportunities to break the tie against the No. 7-ranked Highlanders.
"We got beat in every facet," said Lake Braddock head coach Jody Rutherford. "We were outcoached. They were tougher than we were - just mentally more tough than we were."
Rutherford said he took nothing positive from the outcome, rejecting the idea of an early-season loss benefiting the Bruins down the road.
"No, I'll give them a wake-up call on my own," he said. "There's nothing good about losing a game. We had plenty of opportunities to take the lead. We couldn't even run a bunt coverage there at the end of the game right. I don't take anything good out of a loss."
While Rutherford wasn't pleased with the Bruins, he praised the effort of starting pitcher Thomas Rogers, who kept Lake Braddock in the game before leaving with a back pain in the fifth inning. Rogers, a left-handed junior, surrendered five hits and two earned runs while walking one and striking out nine over 4-1/3 innings. He threw 48 of 74 pitches for strikes.
Rogers allowed two runs on four hits in the first inning, surrendering singles to the first three McLean batters he faced.
Rogers was out of the game when McLean scored its three runs to break a 2-2 tie in the bottom of the sixth inning. Two Bruin errors and a well-executed suicide squeeze bunt by McLean's Brock Hunter led to three runs for the Highlanders.
Hunter, on the mound for the Highlanders, tossed a complete game (7 innings), allowing two runs and seven hits. The senior southpaw walked three and struck out six.
"I think they can hit just about all the pitches I throw," said Hunter, of the tough Lake Braddock lineup. "I just mixed it up right and they stayed off balance and, luckily, they were hitting it hard right at people."
Offensively, McLean's Tom Cresce had three hits to pace his team in the win.
McLean was scheduled to play a pair of Liberty District home games this week, versus Jefferson High on Tuesday, April 10 and against Madison this Friday night, April 13 at 6:30.
MCLEAN'S WIN over Lake Braddock was its second in a row at the tournament. The Highlanders had overwhelmed perennial Northern Region power West Springfield by a lopsided 19-0 score a day earlier. Prior to that, the Highlanders had actually lost three straight games – setbacks to tough region opponents Westfield (7-2 on March 28), district rival Fairfax (8-6 on March 30), and Oakton (7-4 on March 31).
McLean (6-4) has wins this season over West Potomac, South Lakes, Stone Bridge, Marshall, and, most recently over the spring break week, the Spartans of West Springfield and Bruins of Lake Braddock, both members of the Patriot District.
The Highlanders, going into their game with Jefferson this week, stood at 3-1 in Liberty District play. The wins over South Lakes, Stone Bridge, and Marshall were all district victories. The district setback came to Fairfax.
Members of this year's McLean High team are: senior pitcher/outfielder Phillip Morse; senior utility player Mark Hannibal; junior infielder Dalton Taylor; junior pitcher/infielder Cole Oldenburg; sophomore infielder Joey Sullivan; senior infielder Coleman Luwis; senior pitcher/outfielder Nathan Goff; junior outfielder Wells Jones; junior pitcher/infielder Jack Fant; senior outfielder Donnie Eckrod; junior pitcher/outfielder Eamon McGoldrick; senior catcher/first baseman Hardy Cox; senior catcher/outfielder Brian Ristig; senior pitcher/infielder Tom Cresce; junior catcher/outfielder Hunter Eckrod; senior outfielder Gordon Rogo; junior outfielder Matthew Lewis; senior pitcher Matt McDonald; senior pitcher/infielder Josh Sborz; and senior pitcher/outfielder Brock Hunter.
Note: Rich Sanders contributed to this story.