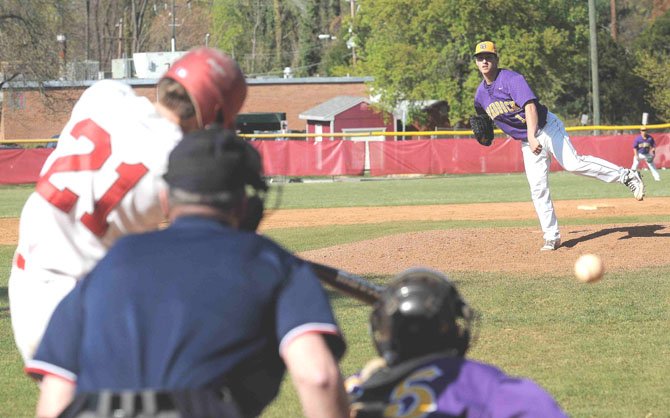 McLean — Lake Braddock starting pitcher Thomas Rogers said the Bruins could build from Tuesday's sub-par performance against McLean. Head coach Jody Rutherford said he took nothing positive from the outcome.
Regardless if one viewed the glass as half full or half empty, the Lake Braddock baseball team suffered its first loss of the season on April 3 and Rutherford was less than enthused with the Bruins' effort.
Lake Braddock left the bases loaded twice and surrendered three runs in a miscue-filled sixth inning en route to a 5-2 loss to the Highlanders at McLean High School. The Bruins entered the contest ranked No. 1 in the Washington Post's top 10 with a 9-0 record, including a 2-0 victory against No. 2 Oakton one day prior. Lake Braddock overcame a 2-0 first-inning deficit to tie the score at 2-2, but squandered multiple opportunities to take the lead against No. 7 McLean.
"We got beat in every facet," Rutherford said. "We were outcoached; they were tougher than we were --- just mentally more tough than we were."
Rutherford rejected the idea of an early-season loss benefiting the Bruins down the road.
"No, I'll give them a wake-up call on my own," he said. "There's nothing good about losing a game. We had plenty of opportunities to take the lead. We couldn't even run a bunt coverage there at the end of the game right. I don't take anything good out of a loss."
Did the Bruins overlook the Highlanders one day after a big win against Oakton?
"I think I got … 15 guys over there," Rutherford said, "that think that they're God's gift to baseball, to be perfectly honest with you."
"I think I got … 15 guys over there that think that they're God's gift to baseball, to be perfectly honest with you."

— Lake Braddock baseball coach Jody Rutherford
While Rutherford wasn't pleased with the Bruins, he praised the effort of starting pitcher Rogers, who kept Lake Braddock in the game before leaving with a back pain in the fifth inning. Rogers, a left-handed junior who is committed to the University of Georgia, surrendered five hits and two earned runs while walking one and striking out nine over 4 1/3 innings. He threw 48 of 74 pitches for strikes.
Rogers allowed two runs on four hits in the first inning, surrendering singles to the first three batters he faced, though McLean didn't hit the ball particularly hard off him.
"He pitched his butt off," Rutherford said. "Even in that first inning --- I think they hit one ball hard --- they were just finding holes. He pitched well --- single-handedly got us out of that inning."
Rogers left the game with one on and one out and a 1-1 count against a McLean batter in the bottom of the fifth. Lake Braddock got out of the inning unscathed, but in the bottom of the sixth, two Bruin errors, a defense miscue and a well-executed suicide squeeze bunt by McLean's Brock Hunter led to three runs for the Highlanders.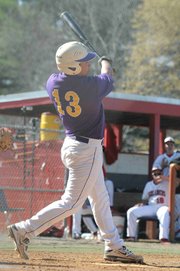 Rogers said his back has bothered him for weeks and he plans to rest it during spring break.
"It's a learning experience because we [hadn't] lost yet this season," Rogers said. "We can build on this. I know I hate this feeling and everybody else does and we don't want to feel this again. I guess it can help us out in the long run. … Once we got down, everybody put their heads down because we haven't been behind a lot this season and it just really put everybody down."
Hunter tossed a complete game for McLean, allowing two runs and seven hits while walking three and striking out six.
"I think they can hit just about all the pitches I throw," Hunter said. "I just mixed it up right and they stayed off balance and, luckily, they were hitting it hard right at people."
Lake Braddock sophomore shortstop Jack Owens had two hits, including a double. Senior second baseman Matt Spruill had a run-scoring double, junior first baseman Mitch Spille had a double and junior third baseman Alex Lewis recorded an RBI single. Rogers and junior center fielder Alex Gransback each had a single.
Lake Braddock will travel to face Annandale at 6:30 p.m. on Wednesday, April 11. The Bruins' next home game is April 13 against West Potomac.