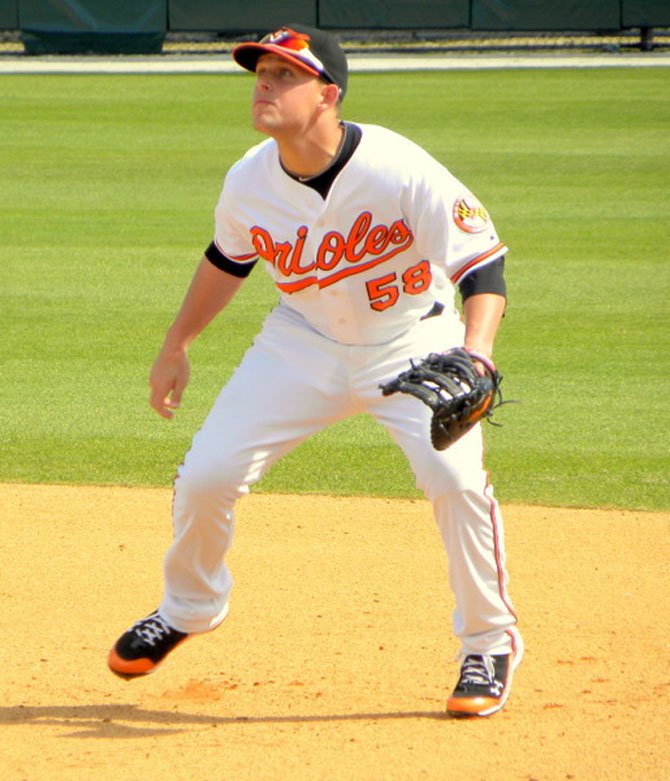 Centreville — Westfield High graduate Brandon Snyder, the first round baseball selection of the Baltimore Orioles in the 2005 first year player draft, made the 25-member Texas Rangers roster which broke spring training camp to begin the new season last week.
Snyder, a first baseman with the Orioles who spent seven years in the Baltimore minor league system with only a handful of call ups to the parent major league club, was sent to the Rangers, the defending American League champions, this past offseason.
Over spring training in March, Snyder, who was the Washington area's High School Player of the Year while at Westfield back in the spring of 2005, impressed the Rangers coaches with his versatility and ability to play multiple positions.
"We know he can play third base, first base, catch a little bit [behind the plate], and I want to see him more in the outfield," said Rangers Manager Ron Washington, in an interview on the Texas Rangers' Official Website. "He's a right-handed batter and sees the ball well. We want to see the type of versatility he can show us and see if he can play left field."
Through Texas's first four games, including the Rangers' 11-5 home win over Seattle on Monday in Arlington, the 26-year old Snyder, who made his big league debut with Baltimore on Sept. 10, 2010, had not seen any game action.
Snyder, during the interview on the Rangers' site, appeared somewhat excited, in his own toned down way, about having made the Texas roster. His comments came just a day or so prior to Opening Day last week.
"I just want to go out and play each position as well as I can," said the 6-foot-2 inch Snyder, who both bats and throws right-handed. "It's been great that they've given me an opportunity. I can play some third base and first base, outfield, and catcher. I'm just working hard to get better at each position. It's fun for me to play different positions and to use a different glove every day. It keeps me mentally ready to play."
Snyder grew up playing the hot corner position at third base. While in the Orioles system he spent most of his time at first base.
"I really enjoy playing third base," he said. "It's something I grew up doing. The last couple of years with the Orioles I played mostly first base."
AT TRIPLE-A NORFOLK last year in the Orioles' chain, Snyder played 86 games at first, 16 at third, one in the outfield, and one behind the plate. For the season in Norfolk, Snyder batted .261 with a career-high 14 home runs and 71 RBI. He also rapped 21 doubles. He usually batted in the No. 3, clean-up, or No. 5 slots in the Tide batting order.
Snyder had two short stints with Baltimore in 2011: May 18-24 and June 10-11. He made four starts at first base for the Orioles. In his brief time in the big leagues over the past two seasons (2010, 2011), Snyder, in 16 games, has nine hits in 33 at-bats for a .273 average. He is hoping for much more big league time this season with Texas, although playing time will be tough to come by in the Rangers' talent-laden line-up.
Snyder said he approaches each at-bat he has as an opportunity to do something positive for his team.
"I try to get quality at-bats, move base runners over and get guys [across home plate]," he said.
He said he has felt at home in the Rangers' system this spring, Snyder's first professional experience away from the Orioles.
"It's been such a welcoming feeling," he said. "It's a great clubhouse and the manager [Ron Washington] has been great. It starts at the top with [team president] Nolan Ryan and [general manager] Jon Daniels. It's been an awesome atmosphere to be a part of."
Snyder will hope for some playing time as Texas plays home games this week against the Mariners through Thursday before starting a weekend series in Minnesota.