Alexandria — T.C. Williams defender Manuel Benites let fly with a lengthy sideline throw-in that found teammate Alexander Wolz, who headed the ball in the net during the first half of the Titans' April 10 matchup with West Potomac.
More than eight minutes later, TC's Mauricio Salvatierra initially came up empty on a penalty kick, but managed to score after the ball ricocheted off West Potomac goalkeeper Erik Liner.
In the opening minute of the second half, Benites booted a corner kick that Abdel Al Nimiry put away for his second goal of the evening.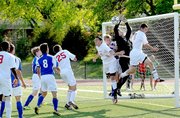 The T.C. Williams boys' soccer team had struggled to capitalize on scoring opportunities early in the season, managing just six goals in five games en route to a 0-4-1 record. Against the Wolverines on Tuesday, the Titans found several ways to get the job done. Nimiry scored a career-high three goals and the Titans cruised to a 5-0 victory in their Patriot District opener at Parker-Gray Stadium. Playing for the first time in 18 days, West Potomac dropped to 2-3 with its third straight defeat. The Wolverines haven't scored a goal since losing 3-2 to Edison on March 21.
Against T.C. Williams, West Potomac head coach Andrew Peck said the Wolverines didn't come out ready to play.
"My goal every year is to be in the district finals, but we're not going to do it if we continue to play like this," Peck said. "T.C. Williams is a quality squad, but we have [to play some teams that] are even better throughout the rest of the season. It's just going to get harder; it's not going to get any easier. [If we can't play better than] we did today, it's going to be a long year."
West Potomac hung around early and had a goal erased by an offside call. The Wolverines and Titans were locked in a scoreless tie for 25 minutes before T.C. Williams opened the floodgates.
"West Potomac has got a good group," T.C. Williams head coach Martin Nickley said. "They have some players that are going to cause some trouble in these matches coming up because they can do a lot of individual one-on-one stuff."
One of those players is senior forward Joy Mainoo, who leads the Wolverines with five goals this season. Peck also praised the efforts of his goalkeeper Liner, and defenders Pace Woods and Michael Poulin.
"My goal every year is to be in the district finals, but we're not going to do it if we continue to play like this."

— West Potomac boys' soccer coach Andrew Peck
West Potomac opened the season with wins against Marshall (5-0) and Hayfield (1-0) before falling to Edison (3-2), Stuart (2-0) and T.C. Williams.
The Titans' victory on Tuesday came 12 days after TC earned its first win of the season against Chantilly, 3-0. With back-to-back victories and more goals in their last two games than in their first five, the Titans are hoping to ride momentum into their district schedule.
"We've been getting a lot of chances, but we haven't been able to put them away," Nickley said. "The positive in the matches was we weren't able to score, but at least we were making the opportunities. Then it's just been a matter of us continuing to work on that confidence in front of the goal."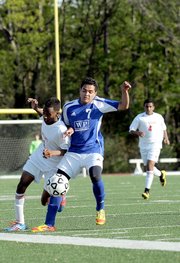 If the Titans were lacking confidence around the net, Tuesday's win should help. Nimiry scored the team's final three goals, securing a hat trick in the 57th minute.
"That was a great performance," Nickley said. "He was playing [multiple] positions on the field. He's such a hard worker. [Some of his] goals he creates because he's an opportunist — he puts himself in a position to score."
Nimiry took a modest route when describing the key to his three-goal effort.
"I couldn't do it by myself," he said. "I did it with my teammates. My teammates helped me out. If it wasn't for my teammates, I wouldn't have any goals."
One of his teammates acknowledged Nimiry's hustle.
"He's one of the players in practice who just never stops," Benites said. "He's always giving 100 percent all the time, everywhere."
While Benites didn't score, he showed his offensive value as a facilitator in set pieces. His ability to generate considerable distance on his throw-ins led to TC's first goal, when he found Wolz in the 26th minute for a header to the far post.
"He always makes his run right to the front post," Benites said. "He looks at me right before I throw it. He said 'Hey, I'm going front post, front post.' I found him and [the throw was] just like a beam, just right to him. It skipped right off the head right to the far post. It was great."
Benites also takes many of the team's corner kicks.
"Both with the throw-in and with his corner kicks, he has such good control of the ball," Nickley said. "The trajectory with which the throw-in comes in is just the perfect height for little flick-ons and nod-ons. He strikes the ball so well both from shooting and the delivery — and he works really hard at it. …
"He was a driver of the ball because he was a field goal kicker [for the school's football team], but he's now putting a curve to it in there, as well, which is very effective."
West Potomac will return to action at 7 p.m. on Thursday, April 12 with a home game against West Springfield.