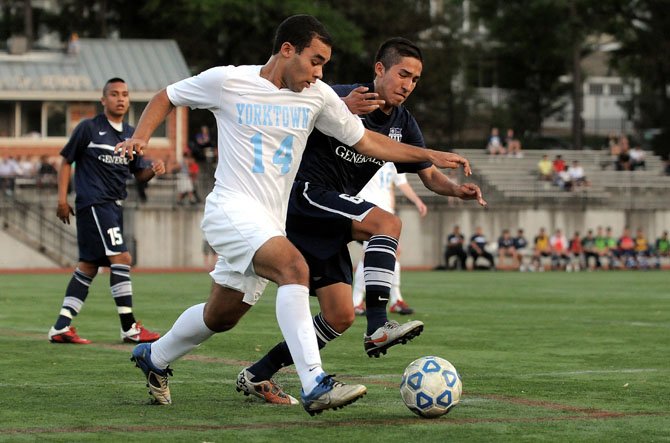 Arlington — After a 16-win season that included a National District title and a trip to the Northern Region semifinals last year, the Washington-Lee boys' soccer team is still trying to settle into a groove in 2012. Facing rival Yorktown on April 16, the Generals didn't do themselves any favors while trying to elevate their level of play.
W-L received several cards, including a pair of red cards in the second half, and surrendered the tying goal with less than two minutes remaining in regulation as the Generals and Patriots played to a 1-all tie at Greenbrier Stadium in Arlington.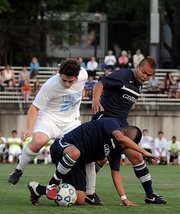 Despite lapses in composure, the Generals led 1-0 late in the match after standout senior forward Eric Schmidt scored during the 55th minute. W-L held the lead for 24 minutes, but Yorktown played a free kick into the box and, after the ball bounced off a player or two, sophomore midfielder Caleb Knight, who entered the game moments earlier, scored the tying goal with 1:15 remaining.
The tie moved the Generals' record to 3-3-2, including 0-1-1 in the district. Last season, W-L finished 16-2-1, including a perfect record against district opponents.
"I don't think we've really hit our stride," W-L head coach Jimmy Carrasquillo said. "… We've been consistent [with producing winning seasons of late]. With that, [I'm] just telling [the Generals], 'Hey, let's keep going forward. We're not happy with 3-3. We're not happy with tonight.' I definitely feel [Yorktown is] happy with the tie, where we came away with it as a loss."
Schmidt, a first-team All-Met selection by the Washington Post in 2011, broke a scoreless tie in the 55th minute with a header.
"[Senior defender and co-captain] Jack Beckman made a great run back post and he had a great header across," Schmidt said, "and I was just in the right place at the right time."
Carrasquillo said Schmidt is an even more confident player and leader as a senior.
"He wants to take the team on his shoulders," Carrasquillo said, "and kind of carry them through."
Schmidt, who did not receive a card, said the Generals need to keep cooler heads.
"Unfortunately, we had a little misbehavior on the field," he said. "I thought we kept it together toward the end and we were lucky to pull off a draw. We need to be a little better at holding our composure."
Still, W-L was in position to win the game until Knight scored in the 79th minute.
"As the clock was winding down, we changed shape a little bit," Yorktown head coach David Wood said. "For that last five minutes when I threw Caleb on, we were in pretty much a 3-3-4 [formation] — throw kids on up top, the kid showed the character to score a good goal. Caleb had composure in the box, took it well to get a good goal."
"I'm not too worried right now. If we heat up at the end of the season, we'll be just fine."

— W-L senior Eric Schmidt
The tie moved Yorktown's record to 3-3-2, including 1-0-2 in the district.
"I think it was a very even game and I think it was a just result for both sides," Wood said. "They had four or five chances, we probably had three to four good chances, and both teams defended well."
Yorktown had its streak of four consecutive district titles snapped by W-L in 2011. This year, the Patriots are led offensively by senior JohnGates Sharp, who has five goals and three assists, as Yorktown looks to return to the top of the district.
"He's great," Wood said about Sharp. "He can hold the ball in, he's good at getting behind, he makes good runs [and] he's good in the box, finishing chances off. He works really hard [and] he's a good kid. He's one of our leaders."
Yorktown will host Hayfield at 7 p.m. on Friday, April 20. W-L will host Stuart.
"I'm not too worried right now," Schmidt said. "If we heat up at the end of the season, we'll be just fine."