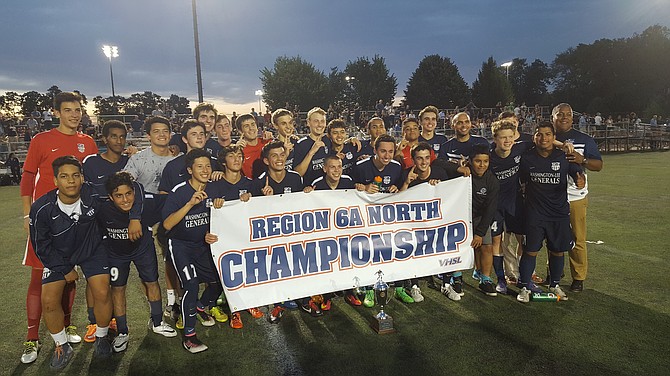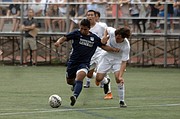 In 2014, Maycol Nunez's first opportunity to play for a region championship ended with a red card. The Washington-Lee boys' soccer team suffered a lopsided loss to T.C. Williams on that June day and Nunez, then a sophomore star, was forced to sit out of the Generals' ensuing state semifinal match.
Two years later, W-L had another chance to snap the program's region title drought of more than four decades. Memories of the 2014 loss to TC kept Nunez awake the previous night, but there would be no shortage of confidence for the Generals and their senior striker as they put forth a dominant performance on their rival's home field.
Nunez was one of three Generals to score a goal and Washington-Lee captured its first region championship since 1972 with a 3-0 victory over Yorktown on Monday night in the 6A North region championship game at Yorktown High School.
"Feels great, man," Nunez said. "Last night, I couldn't sleep [because I was] thinking about the one time that we lost against TC. We knew that our team really wanted it. We always want to win. We were pretty confident about coming out and getting the dub."
Yorktown handed W-L its first loss of the season during the Conference 6 tournament, beating the Generals 3-2 in the semifinals on May 16 at Washington-Lee High School. W-L responded emphatically on Monday, controlling the run of play throughout.
"It feels good. It feels real good," said Jimmy Carrasquillo, who is in his 17th season as W-L head coach. "All the hard work that these boys have put in, especially some of the seniors, over the past three years, it's really made a difference in our program. We had good program before but I think it's elevated us a little bit more now."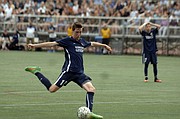 The victory improved the Generals' record to 15-1-2, including a 3-2 win over Yorktown during the regular season on April 25.
"It feels amazing — great feeling — because we got them back," Nunez said. "They beat us at our place but we beat them in the [region final]."
W-L took a 1-0 lead in the 23rd minute when midfielder Thomas Odlum buried a shot in the back of the net.
Nunez got off a shot inside the six-yard box, but Yorktown goalkeeper Hayden Kickbush came up with a save. The ball ricocheted to a Patriots player, who re-directed it toward Odlum. The W-L junior took a touch before tucking the ball inside the far post.
"If we wanted anybody on that ball that came out, it was Thomas, because Thomas kept it low, he ripped it — he shoots well," Carrasquillo said. "When that ball fell to him, I just wanted to see the net ripple and once I did I was like, 'Yeah, that's who we wanted on there.'"
W-L led 1-0 at halftime before doubling its advantage in the 60th minute, when Nunez used his left foot to bury a shot inside the near post.
Senior midfielder Lucas Mendes, the Gatorade National Boys Soccer Player of the Year, provided W-L with an insurance goal when he converted a penalty kick in the 63rd minute.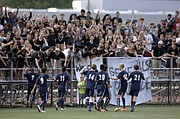 Mendes, who will play for the University of Virginia, is in his first season with the Generals.
"I came back to win and we won," Mendes said. "Two more games and that's the big one."
Yorktown, which won the Conference 6 title after upsetting W-L in the tournament semifinals and Langley championship match, fell to 11-6-3. The Patriots entered Monday's match on a six-game win streak and were unbeaten in their previous nine matches.
Yorktown had its prom on Friday; something head coach Carlos Aranda said affected the Patriots' performance.
"We trained on Saturday, it was terrible," Aranda said. "... They were all over us. We couldn't control the ball, we couldn't react. When you go all the way until 6 a.m. in the morning partying, you won't recover."
Yorktown will face 6A South region champion First Colonial in the state semifinals at 4 p.m. on Friday, June 10 at Robinson Secondary School.
"Mentally and physically," Aranda said, "these kids need to recover."
Washington-Lee will take on 6A South runner-up Grassfield at 2 p.m. on Friday at Robinson.
"Regionals is a step," Mendes said, "but states has been the goal since Day One."