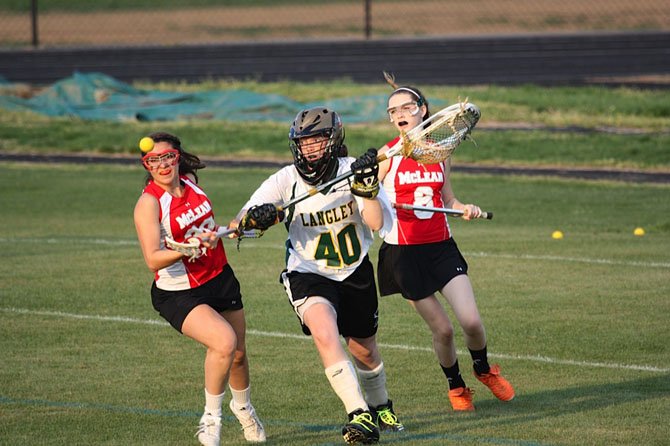 Great Falls — The Langley High varsity lacrosse team defeated the reigning Virginia State champion Madison Warhawks on their home turf in Vienna, 13-11, in a Liberty District showdown last Friday night between two of the state's top-ranked girls programs.
Propelled by a five-goal outing by junior Grace Goettman, who took and won the majority of the game's draws, and a stellar performance by the Lady Saxon defense, led by junior goalie Erin Long's 13 saves, Langley built a 13-6 lead with five minutes left and then withstood a furious comeback attempt by the powerful Warhawks.
Langley snapped the Warhawks' string of unbeaten games at 26 and emerged tied with Stone Bridge atop the Liberty District standings. Senior Nicky Pritchett contributed three second half goals for the Saxons, who earlier this week continued Liberty District play with a home game against Fairfax High on Monday night.
FRIDAY'S GAME opened in the twilight on Madison's enormous turf field, with ball handling appearing tight as the teams encountered excellent defensive pressure on both ends.
Long began her night with a save on a shot from junior attack Carly Frederick at 20:47. Two minutes later, senior Kelly Martins drew first blood on a goal following a Madison penalty drawn by Goettman. Outstanding defense keyed the Saxon offense as junior defender Kelly Dore picked the ball off, igniting a long run and shoot by sophomore Jordan Simonides to make it 2-0.
Long made another save on a Warhawk penalty shot, feeding junior Hayley Soutter, whose downfield sprint ended with a pass to a streaking Goettman whose initial tally made it 3-0 Saxons with 10 minutes gone.
Long continued to sparkle in goal, registering multiple saves in the next minutes, but her last effort was bobbled and Frederick scooped up the loose ball and dumped it in for the Warhawks' first score at 13:22. Following another Madison turnover forced by Dore, who had her finest game of the season, Goettman cut from the right and tallied a beautiful left-handed goal to make it 4-1, Saxons. Frederick answered again for Madison off a feed from sophomore Sam Babbitt.
Notwithstanding furious up-and-down play on both sides, the excellent defenses of both squads kept the score there until senior Margo Swomley scored on a penalty at 6:16 to bring the lead to three again at 5-2.
Over the ensuing possessions, Long was on fire, making multiple saves on point-blank Warhawk shots. She then kicked off a brilliant run, snaring a Madison shot and finding a streaking Goettman, who rifled what appeared a sure goal before the referee declared a crease violation. This turned momentum toward the Warhawks, who counterpunched with a goal from freshman Kathryn Sciandra in the last minute of the half, leaving things at 5-3 at the halfway mark.
THE SECOND HALF opened much like the first, with Long saving a penalty shot at 23:21. But the talented Warhawk squad continued to press, with sophomore Alex Condon shaving the lead to one with a goal at 21:59. Goettman answered with a tally at 19:28, courtesy of a Swomley assist, and Sisson snagged the ensuing draw and charged in to find senior Nicky Pritchett, who found the net to make it 7-4.
Madison began winning draws, however, and only two fine saves by Long staved off a run, with Babbitt scoring one at 17:59 to make it 7-5. Dore again sparked a Saxon run with a fine downfield run, finding Pritchett who made a nice pass to Goettman for her fourth goal. The pattern repeated: save by Long, outlet to Dore, with Pritchett picking up the goal on a penalty shot to make it 9-5.
Madison answered on a shot by senior Julia Kehoe before Langley went on a scoring spree. Goettman scored emphatically at 11:25 and then the senior Saxon leaders asserted themselves - with Pritchett registering her third goal in her best showing since returning from last year's injury-shortened season. Swomley then found Glasgow for a nifty netter and, following yet another save by Long, Martins continued the Saxon surge to make it 13-6 with just 5:16 left.
But Madison would not go gently into this good night. Sophomore middie Melissa Kellan fought her way in and picked up a penalty which she converted at 4:46. Less than half a minute later, the imposing Kellan emerged from a scrum and found the goal again to make it 13-8. Winning the post-goal draw battles, Madison surged on Katie Kerrigan's goal at 4:04. Following a yellow card call against the Saxons, Kerrigan again tallied at 3:10 and a minute later Kehoe scored, sending the home crowd into a frenzy and leaving the Saxon's lead at a sudden and perilous two goals at 13-11 with less than two minutes remaining.
But as they have all year, the Lady Saxons gathered themselves and refused to bend. Goettman skied for the draw, the Saxons snagged the ball, and the sure-handed Soutter, Glasgow and Martins were instrumental in outrunning the desperately chasing Warhawk defenders as time finally ran out.
"This was a terrific win over a championship-caliber Madison team," said Langley coach Richard DeSomma. "We had some calls go against us in the second half and Madison was able to pull off a run near the end, but we kept our poise and closed them out. The defensive unit played an outstanding game and I can't say enough about Erin Long's performance, which was the difference-maker tonight. We will see Madison again in the postseason, and I hope we will perform as well."