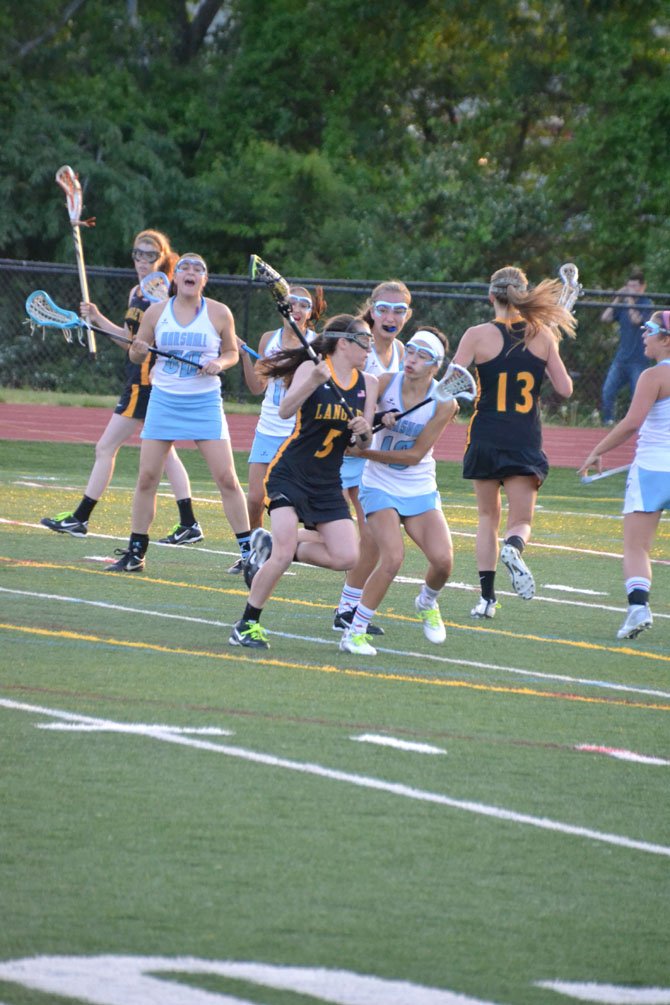 Great Falls — The Langley Lady Saxons notched another impressive win, defeating the George Marshall Lady Statesmen, 15-5, in a Liberty District lacrosse match-up played last Thursday, April 19.
The Saxons, playing on a beautiful spring night at Marshall's Jimmie Miller Stadium, were fueled by senior Margo Swomley's four-goal performance and the junior juggernaut of Olivia Sisson, Hayley Soutter, and Grace Goettman, each earning a three-goal hat trick, while solid play on the defensive end staved off the much-improved and high-scoring Marshall squad. Langley recorded its seventh win of the regular season and continued to hold first place in the Liberty District going into this week's action.
Sisson struck early at 22:04 , capping Langley's opening two-minute settled attack, after charging through the defense with a hard left-handed blast. Not three minutes later, at 19:52, junior Rachel Wagner successfully executed a right-fake, left-shot off a running feed from sophomore Jordan Simonides. But the Statesmen quickly responded at 18:36 when sophomore Kelly Brown showcased her blazing speed on a fast break, netting a free-position goal off of a Langley foul, bringing it to 2-1 Saxons. The Statesmen then pressed the tenacious Saxon defense for nearly four minutes to no effect, punctuated by Langley junior goalie Erin Long stuffing a shot at close range.
At 13:03 Sisson jammed a thigh-high shot past Marshall's goalie off a behind-the-cage feed from Swomley. After Soutter netted a shooting-space free position at 10:20, Marshall called for a timeout with the score 4-1 in Langley's favor. As the sun disappeared on the horizon, pervasively chilling the entire venue, senior Tri captain Ellie Glasgow assisted Swomley for the first of her four goals on the evening, at 9:18, off a low shot, preceded by a nice ball fake.
Marshall controlled the ball nicely for the next five minutes, despite being rebuffed several times by Langley's motivated defense, spearheaded by junior Kelly Dore's strong pass anticipation. Eventually Marshall's offensive pressure could not be stopped when junior Jessica Taylor assisted senior Rachel Waldron's hard, close-range shot with 4:35 to go in the half. Shortly thereafter, Brown's fast break for Marshall was foiled by a sprinting Simonides near Langley's eight-meter arc, which spawned Soutter's 80-yard streak and score for the Saxons. But Marshall would tally one more time when sophomore Allie Johnson scored on a sweet, swirling, Coriolis-effect move, leaving the score in Langley's favor, 6-3.
THE EARLY SECOND HALF saw the game pivot decisively to Langley with the Lady Saxons tallying a rash of six unanswered goals in just over seven minutes. Swomley, Soutter and Goettman all scored unassisted, followed by Swomley again from Glasgow, and then Goettman from Soutter. The last of the six goals featured a spectacular, heads-up play by Swomley with an out-of-crease, single left-handed stab of Marshall senior goalie Meredith Grizer's pass, which Swomley promptly netted at 17:18. While Marshall sophomore Carly O'Beirne responded after a Langley yellow card, deftly weaving through the Saxon defense on a cross-crease, lefty goal at 16:30, the damage was done and the Saxons controlled decisively with a 12-4 lead.
Langley would score three more times before the night was over, with goals by Glasgow, Goettman assisted by Sisson, and finally Sisson, assisted by Simonides, at 9:14. Over the course of the next six minutes, Marshall goalie Grizer skillfully withstood continuous pressure, staving off repeated attack sequences. Finally at 3:50, Marshall's Waldron launched a tough low shot, scoring the final goal of the contest.
Langley Coach Richard `Des' DeSomma observed, "The score really does not do justice to how improved and what a good team Marshall has become. I was especially happy with our outstanding defense directed by senior captain Macy Anderson. They held off Marshall for what seemed to be 10 minutes of the 25-minute first half and made the difference tonight."
Earlier last week, on April 16, Langley used a second half scoring spurt to pull away from the Fairfax Rebels and wrap up a 16-5 home field victory in a Liberty District contest.
Sisson continued her ascendant play with a four goal, three assist outing, while goalie Long turned in another sparkling performance in the net with nine saves. Langley showed its surpassing depth with younger players featured through much of the game, while the rested starting squad came on late to settle an exciting, well-played contest.