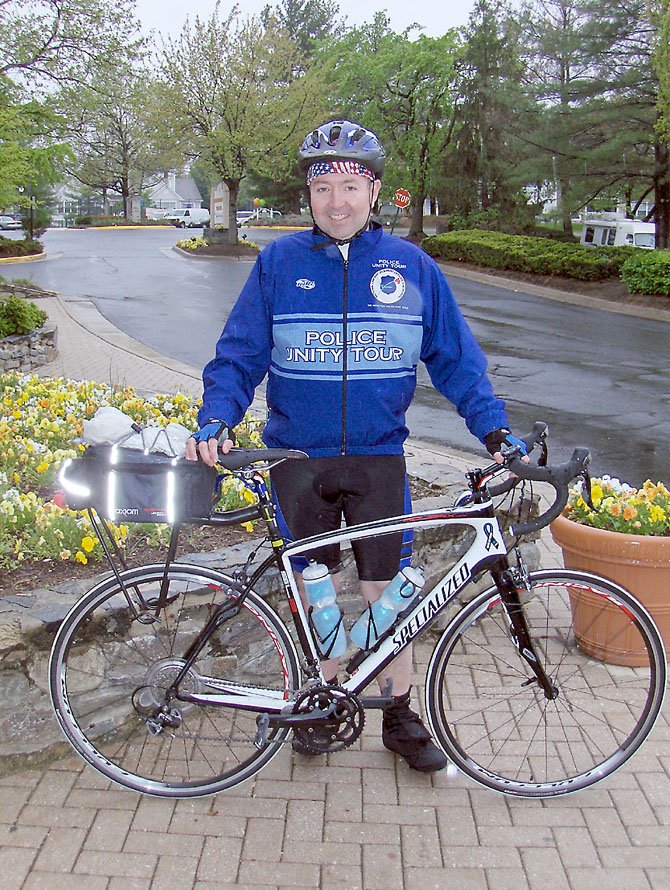 The 16th annual Police Unity Tour (PUT) ride will be May 10-12, and Centreville's Kevin Whalen is already busily raising funds for the cause. The event honors fallen officers and raises awareness of and money for the National Law Enforcement Officers Memorial Fund and Museum in Washington, D.C.
Whalen, of the Walney Glen community, is a federal agent with the Treasury Department, and he and his fellow law-enforcement officers will ride their bicycles 230 miles from Richmond to Charlottesville to Warrenton to the District.
He's riding in memory of Virginia Tech Police Officer Deriek Crouse who was shot and killed Dec. 8, 2011. Crouse was one of 162 law-enforcement officers nationwide who died in the line of duty in 2011. Their names will be engraved in the memorial and dedicated on May 13.
Meanwhile, Whalen has several upcoming fund-raisers:
On Thursday, April 26, Glory Days Grill — at 13850 Braddock Road in the Old Centreville Crossing Shopping Center — will host a Bartenders Night from 6-9 p.m. Whalen and others who'll be riding in the PUT will tend bar and will have tip buckets out for donations.
A football signed by the entire Washington Redskins team will be raffled off, along with Redskins and Washington Nationals sports jerseys and a Kentucky Derby-themed gift basket. In addition, Glory Days will donate 10 percent from the proceeds of all meals it serves that whole day.
On Saturday, April 28, from noon-3 p.m., a document shredding will be held in the Glory Days parking lot. Cost is $10 per any size box/bag of documents, staples, folders, credit cards or mail. Items will be shredded on the spot in minutes by TrueShred. Each participant will receive a tax receipt, a coupon for a Glory Days Grill appetizer and a blue ribbon to tie on his or her car to show support for law enforcement.
"We're hoping to raise $1,000 at the Bartenders Night and $1,500 at the shredding event," said Whalen.
From now until May 19, at all Glory Days Grill locations in Virginia, 10 percent of food receipts will be donated to Whalen's fund-raising efforts for the ride. To make that happen, customers must give their original, detailed food receipts to him. Contact Whalen at 703-201-4586 or via kevwhalens@gmail.com.
Donations may be made on his Virginia Chapter IV Web site, http://policeunitytourchapter4.com/, or by check mailed to: Kevin Whalen, Police Unity Tour, Chapter IV, P.O. Box 706, Fairfax, VA 22038. Contributions may also be made at www.firstgiving.com/fundraiser/kevin-whalen-1/2012.