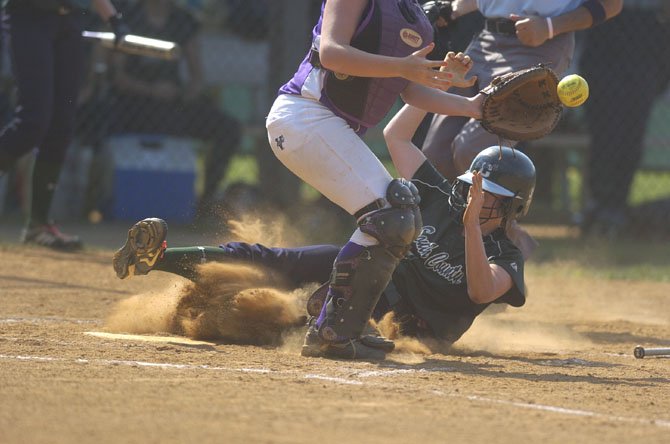 fairfax station — Fielding a young lineup has not stopped the South County girls' softball team from having one of the better outfits in the Northern Region once again. The Stallions, with a starting lineup filled mostly with freshmen and sophomores, still showcased an impressive 11-2 overall record following a 3-2 loss at Lake Braddock earlier this week on Tuesday, April 17.
The Patriot District loss to the Bruins was the first defeat for South County in over a month since the Stallions' season opener 4-2 setback at defending region champion Westfield on March 15. Following that season-opening defeat at the hands of the Bulldogs, coach Gary Dillow's South County squad reeled off 11 straight wins over the next four week before Tuesday's loss to Lake Braddock.
"We are still a very young team, with seven of nine starters being a sophomore or freshman," said Dillow, at the helm of a program which has won five consecutive district championships. "Hopefully we continue to get better as the season progresses."
Over the recent spring break week, the Stallions remained home and competed at the Hayfield Spring Break Tournament where they won all five of their games to capture the tournament title. The wins came over host Hayfield, 3-0, on March 24; Jefferson, 3-1, on March 27; Marshall, 14-6, on March 31; Herndon, 5-1, also on March 31; and West Springfield, 16-4, on the morning of April 2.
While spring break week was officially April 2 through April 6, a majority of the Stallions' spring break tournament games were actually played prior to that week.
Since going 5-0 at the break, South County has gone 2-1 in recent district games. South County won at West Potomac, 6-0, on April 11, than won at West Springfield, 19-2, on April 13. The one-run loss at Lake Braddock came four days later.
Following the setback to the Bruins, South County's district record was 7-1. The Stallions do not play again until next Tuesday, April 24 when they travel to Lee High for a 6:30 p.m. meeting versus the Lancers. Later next week, on Friday night, April 27, South County will return home for a district meeting versus the Annandale Atoms.
AT THE PLATE, South County has received an outstanding season from sophomore shortstop Whitney Burks, who going into this week was leading the Stallions with a .655 batting average. She has hit a home run, batted in 14 runs, scored 15 runs, and is a perfect 10-of-10 in stolen bases.
Also putting together a good season is sophomore pitcher Rebecca Martin, who is hitting .464 with 12 Rbi's. On the mound, Martin is 4-1 with a 1.50 ERA, with 35 strikeouts in 28 innings.
Also doing a great job on the hill for South County is senior Kyra Ketch, who is 3-0 with a 2.58 ERA with 32 strikeouts in 22 innings.
"We appear to be one of the top teams in the Patriot District, and should be fighting for our sixth straight district title at the end of the regular season," said coach Dillow. "I also think we have the chance to make a strong showing in the regional tournament."
The district tournament will take place at the conclusion of the regular season in mid-May. The 16-team Northern Region tournament is scheduled to begin May 25 with first round ball games.
The following is this year's South County team roster: senior outfielder Laura Bettwy, sophomore shortstop Whitney Burks, senior outfielder Kaylyn Duda, freshman infielder/outfielder Elyssa Dunn, sophomore catcher/first baseman Haylea Geer, sophomore first baseman/outfielder Gillian Gerton, junior catcher/first baseman Brittnee Haynes, senior pitcher/outfielder Kyra Ketch, sophomore third baseman Caitlin Maglich, sophomore pitcher/outfielder Rebecca Martin, sophomore outfielder Courtney Ward, freshman pitcher/first baseman Riley Wilkinson, freshman second baseman/pitcher Cara Yates.