Winifred Reilly Tracy died on April 11, at her home in Alexandria, of complications from Alzheimer's disease.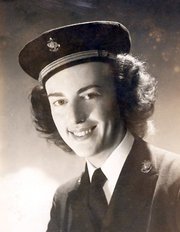 Win was born on June 8, 1920 in the Bronx, N.Y., to Elizabeth Murphy Reilly of Brooklyn, N.Y., and James J. Reilly of New York City, N.Y. She grew up in Teaneck, N.J., and was graduated from the Englewood NJ Hospital School of Nursing, with an R.N. degree. Win was commissioned as an officer in the U.S. Navy Nurse Corps in 1942 and served on active duty until 1946. She served tours of duty at Naval Hospitals in St. Albans, N.Y. and Atlanta, Ga. She served the final year of World War II at Naval Hospitals in San Francisco and Alameda, Calif., treating sailors and marines who had been wounded in action in the Pacific Theatre of Operations, including those wounded in the Battles of Iwo Jima and Okinawa. After the war, she was employed as a nurse at Harkness Pavilion, Columbia Presbyterian Hospital, New York City, N.Y.
In 1949 she married John J. Tracy, Jr. of Brooklyn, N.Y. at St. Patrick's Cathedral, and they moved to Washington, D.C. Win worked as a nurse at D.C. General Hospital and Providence Hospital. In 1950, they moved to Alexandria, Va. Win was an active volunteer for many years with St. Mary's School, the Northern Virginia Swim League, Good Shepherd Catholic Church, where she was a member of and chaired the Social Justice Committee, and United Community Ministries, among other organizations. She worked for many years at the Silhouette Shop in Old Town and was also employed by the U.S. Census Bureau for the 1980 census.
Win was predeceased by her parents, and her brother Donald J. Reilly of Williamsburg, Va. She is survived by her husband of 62 years, John J. Tracy, of Alexandria; her sister, Elizabeth Grady of Ocean Pines, MD; her children, Kevin Tracy and his wife Patti, of Annandale; Eileen Murray, of Chattahoochee, Fla.; Donald Tracy and his wife Loraine, of Richmond, Va.; Beth Louison and her husband Rodney Louison, of Alexandria; and Thomas Tracy, of Fairfax. She is also survived by 15 grandchildren and 4 great-grandchildren.
The family received visitors on Monday, April 16 at the Cunningham Funeral Home, Alexandria. A Mass of Christian Burial was celebrated at Good Shepherd Catholic Church, Mount Vernon, Va. on Tuesday April 17. Interment will be at Arlington National Cemetery at a later date.
The family is grateful to Maria Espinoza and her daughters for the devoted care they provided to Win, and also to the staff of Capital Caring.
More like this story