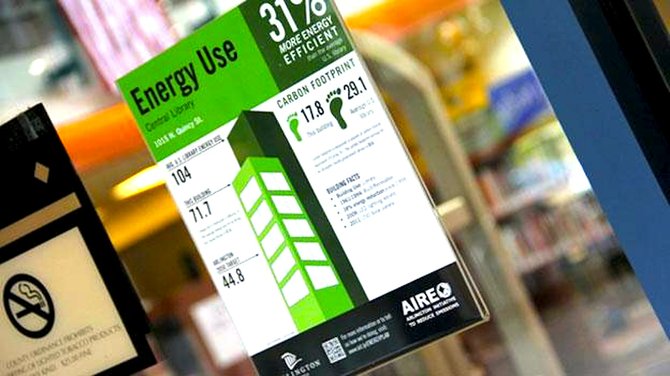 Buildings in Arlington are about to become green with envy. A new county program is now installing energy performance labels in the lobby of government buildings, and Arlington officials say they want to expand the program to private buildings. The pilot would be voluntary, potentially attracting companies that want to draw attention to buildings designed for efficiency. In the long run, though, the idea is that people would take a different approach to what kind of information is available to the public.
"This is a transformative effort," said Joan Kelsch, green building program manager. "So it's not going to happen overnight. We are not going to convince people to do it by tomorrow."
Across the street from the government center, information technology professional Ray Stevenson stops for a moment to consider the plan. Shaking his head, Stevenson says the county is making a mistake. Details about energy use should remain behind closed doors, he said, where county leaders can use it to influence regulators or legislators.
"Let it be done another way," said Stevenson. "I mean, are they really going to shame them into correcting this thing? Or do you mandate them through legislation to do this thing?"
"I completely disagree," said Frances Coles, who also works in the courthouse neighborhood. "I think it needs to be visible so people can see it so people can know. If it's behind the scenes, how would I know?"
BUILDINGS USE more than three quarters of Arlington's energy demand, according to a recent county report. Along with greenhouse gas emissions caused from transportation, energy demand in Arlington County causes 2.7 million tons of emissions a year. Even with recent efficiency gains in new construction, overall greenhouse gas emissions would increase by 2050 if county leaders take a business-as-usual approach. That's why the Community Energy and Sustainability Task Force is recommending an ambitious plan to reduce greenhouse gas emissions per capita from the current 13 metric tons to 3 metric tons by 2050.
"Hopefully over the next 40 years, we'll convince people that this is really important," said Kelsch, "and that we are going to, as a community, do this together."
Last month, the task force issued a report that called for "energy transformation" in the county, recommending that the county manager be responsible for implementing changes. The goal of reducing greenhouse gas emissions by 80 percent in Arlington won't be easy, the report, concludes. That's one of the reasons why the task force is recommending the use of energy performance labels. The text on the labels will compare actual energy performance and emissions to similar buildings and to the county's efficiency standards.
"They should be displayed in larger buildings used by the pubic," the report recommends. "The county could lead the way by example and start displaying energy performance labels in their municipal buildings."
COUNTY LEADERS have already installed the labels in offices and libraries. By the end of next month, they'll be in fire stations and community centers. Ultimately, county leaders say, the idea is that people start thinking about energy use in buildings the same way they already think of energy use in automobiles.
"We're trying to help people connect with the costs," said Adam Segel-Moss, green building coordinator. "Whether people are looking at buying homes or buying commercial properties, we want people to really look at the overall cost of a building."