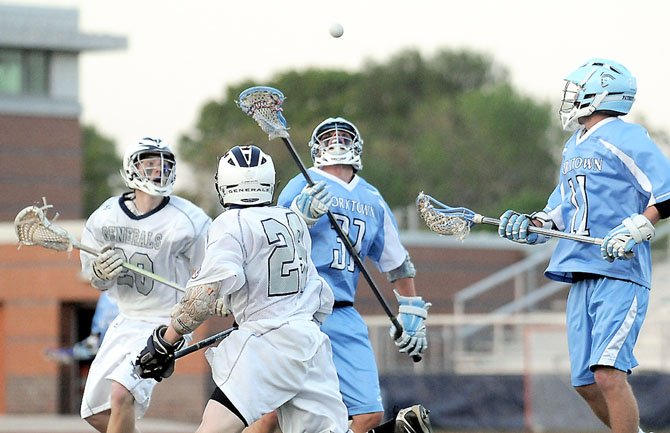 Arlington — The Yorktown boys' lacrosse team lost its first seven games of the season. Having graduated three first-team all-region performers and facing a non-district schedule loaded with Concorde powers, the Patriots found themselves on the short end of the entire first half of their 2012 campaign.
After a month of losing, Yorktown appeared to turn things around by winning three of four entering an April 19 contest at Washington-Lee. However, the Patriots quickly fell behind the Generals and failed to score in the opening quarter.
As it turned out, Yorktown was just weathering the early emotional swings of the Arlington rivalry.
W-L jumped out to a 2-0 lead, but Yorktown responded with seven straight goals, holding the Generals scoreless for a span of more than 32 minutes en route to an 8-4 win at Washington-Lee High School. Patriots head coach Greg Beer said the Generals executed early, but Yorktown eventually got on track, thanks in part to its early-season experiences.
"I think [our tough non-district schedule] helped us greatly because we're battle tested. We can play a game like this where we get down really early and it's not a problem. We're not freaking out."

— Yorktown boys' lacrosse coach Greg Beer
"Just like any rivalry game, at the start, everybody is flying around, everybody is excited [and] they got a couple early bounces and momentum," Beer said. "… [W-L] played their game plan flawlessly in the first quarter, where they just wanted to possess. They got a couple quick and wanted to possess and they did not want us to have the ball. I really think they must have had it 11 out of the 12 minutes. …
"I think [our tough non-district schedule] helped us greatly because we're battle tested. We can play a game like this where we get down really early and it's not a problem. We're not freaking out."
Junior attackman Joe Crawford put Yorktown on the board with 10:29 remaining in the second quarter. After a goal by sophomore midfielder Kyle Harwood, Crawford scored again with 4:56 remaining in the half, giving the Patriots a lead they wouldn't relinquish.
After falling behind early, Crawford said "Coaches came in and they said, 'Just take a deep breath, calm down and we're a better team than them from now.'"
Crawford, Harwood and senior midfielder Tommy Easley each finished with two goals. Sophomore attackman Nico Pollack and senior midfielder Martim Cohen each scored one.
While the Yorktown offense started clicking, the defense shut down W-L. The Generals' second goal came when sophomore midfielder Noah Harrington scored with 8:14 remaining in the opening quarter. W-L didn't score again until sophomore attackman Sam Fitz found the net with 11:21 left in the fourth quarter.
"We started out pretty flat — we weren't hitting as much," Yorktown defenseman Josh Fleetwood said. "End of first quarter, we started hitting a little more, just kept building after that. Then the offense had to start dropping goals. Once the offense started dropping goals, everything started to flow."
Beer said freshman long-stick midfielder Timothy Aldinger and sophomore goalkeeper Will McMahon also played well defensively.
Freshman attackman Kieran Burns and senior midfielder Jarrod Nagurka also scored goals for W-L.
While each team's desire to win the rivalry matchup was evident in the contest's physical play, Crawford said the competition is good-natured.
"Everyone knows each other. The neighborhoods are pretty much in the same place," he said. "It gets competitive out on the field, obviously, but at the end of the day, it's still fun."
Yorktown, the defending National District champion, improved to 4-8 with the victory, including 4-1 in the district. After dropping their district opener to Mount Vernon, 6-3, on March 16, the Patriots have defeated Falls Church, Hayfield, Stuart and W-L.
Yorktown will travel to face Wakefield at 7:15 p.m. on Friday, April 27. W-L will travel to face Edison.