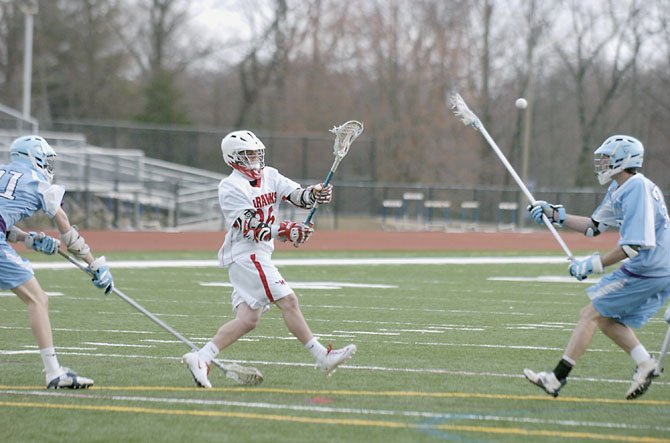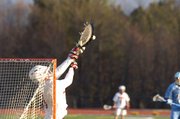 Fairfax — The Madison Warhawks and Yorktown Patriots each have talented goalkeepers. During the teams' spring break matchup on March 28, the Warhawks and their senior netminder bested the Patriots and their up-and-coming freshman.
The Madison boys' lacrosse team beat Yorktown 6-5 during the Ram Slam tournament at Robinson Secondary School. The Patriots led 3-2 at halftime and 4-3 with 8:08 remaining in the third quarter, but the Warhawks scored three straight goals to close the third and held on to win.
Yorktown freshman goalkeeper Mason Pollack finished with 14 saves. Head coach Greg Beer said it was the best Pollack had played all season, but he also said Madison senior goalkeeper Matt Hayden was the difference.
"We've seen the two best goalies in the region already — the kid from Westfield [Tucker Winfrey] and Hayden," Beer said. "Those are the two best goalies in the region by far. Offensively, we got the shots we wanted, [but Hayden] made more plays. He made the plays and that's why they won."
Madison head coach Rich Hodge said Hayden's performance rescued the Warhawks from some selfish play.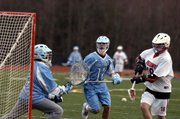 "We're happy with the win," he said. "[Yorktown is] a good team. Their goalie played very well. … I thought they played a very good game. I think sometimes when we play too much as individuals, some of our guys try to do too much and it just kills us. … Luckily, Matt was awesome in cage tonight. … He just has ice in his veins. He's never too high, never too low."
Yorktown senior attackman Joe Crawford solved Hayden for a game-high three goals. Crawford scored back-to-back goals in the second quarter, giving the Patriots a 3-2 halftime lead.
"He's fantastic," Beer said. "He's just one of those kids; he does everything. He can pass, he can shoot, he's just the consummate leader on the field [and] off the field."
Junior midfielder Kyle Harwood and senior midfielder Andrew Liddle each scored a goal for Yorktown. Crawford, Harwood, junior attackman Nico Pollack, sophomore long-stick midfielder Tim Aldinger and defensemen Jonathan Shears (senior) and Conor Shears (freshman) are some of the team's top players, along with Mason Pollack in the net.
"Offensively, we got the shots we wanted, [but Madison goalkeeper Matt Hayden] made more plays. He made the plays and that's why they won."

— Yorktown boys' lacrosse coach Greg Beer
"He's only going to get better," Beer said about his freshman goalkeeper.

Senior Kyle Mancini had two goals for Madison. Senior Kyle Rowe had one.
With the loss, Yorktown fell to 2-3. The Patriots will travel to face Chantilly at 7:15 p.m. today.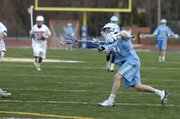 "We just want to compete with (defending district champion) Edison and try to get the National District back," said Beer, whose Patriots last won the district title in 2011. "… We play all these [tough] games early. … We want to play Concorde [District teams and] we want to play the Madisons, the Langleys, because it gets us battle tested. I feel it helps us down the road."
Madison defeated Robinson 15-9 on Monday to improve to 3-0. The Warhawks are looking to take the Liberty District title away from four-time defending state champion Langley. Madison lost to the Saxons in the district final each of the last two seasons.
"Our goal all year is we want to compete for a district title," Hodge said. "We've been there the last couple years. The boys have really focused on how do we get over that hurdle, how do we beat Langley. They put a lot of work into it."
Madison will face Hamburg (New York) at 7:15 p.m. on Thursday, April 4 at Shenandoah University.