Steven and Elizabeth Birk of Clifton are pleased to announce the engagement of their daughters, Michelle Elizabeth and Kristin Margaret.
Kristin Margaret Birk is engaged to Matthew James Hill, son of Mr. and Mrs. Robert Hill of Stafford, Va. Kristin was born in Queens, N.Y. and grew up in Clifton. She graduated from Centreville High School in 2004 and attended James Madison University where she earned a bachelor of science in nursing in 2008. Kristin is a registered nurse in the Georgetown University Hospital Post Anesthesia Care Unit in Washington D.C. She is currently pursuing a master of science in nursing at Georgetown University. She will graduate this September as a family nurse practitioner.
Matthew James Hill was born in Fairfax and raised in Stafford, Va. He graduated with a degree in political science from Christopher Newport University in 2005. Matt attended the David A. Clarke School of Law at The University of the District of Columbia and graduated as a juris doctor in 2010. He currently works for Corinthian Contractors in Arlington as in-house counsel and plays a key role in managing the utilities division.
The couple met at the Georgetown waterfront in August 2008, became engaged in April 2011, and an October 2012 wedding is planned. Kristin and Matt plan to reside in the Northern Virginia area.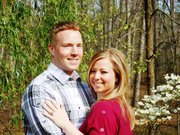 Michelle Elizabeth Birk is engaged to Peter Michael DeHaas, son of Dr. and Mrs. Daniel DeHaas of Silver Spring, Md. Michelle was born in Queens, N.Y. and moved to Clifton at the age of 4. She graduated Centreville High School in 2001, earned a bachelor's degree in interdisciplinary liberal studies and master of arts in teaching, elementary education from James Madison University, and advanced studies in teaching and learning/literacy (reading specialist pre-K through 12) from George Mason University. Michelle is completing her sixth year of teaching Kindergarten and first grade for Fairfax County Public Schools.
Peter Michael DeHaas, son of Daniel and Carolyn DeHaas, was born and raised in Silver Spring, Md. Pete attended Sherwood High School in Montgomery County. In 2004, he graduated from Clemson University with a degree in business marketing. Pete is a sports enthusiast and, has worked for Team Express, sporting goods company, as a regional account executive.
Pete and Michelle met in Arlington, December 2009. Over the past two and a half years, they have enjoyed spending time together, including traveling and participating in sports (softball and touch football). Pete proposed to Michelle surrounded by cherry blossoms at the tidal basin. They are planning a June 2013 wedding and will reside in Maryland.