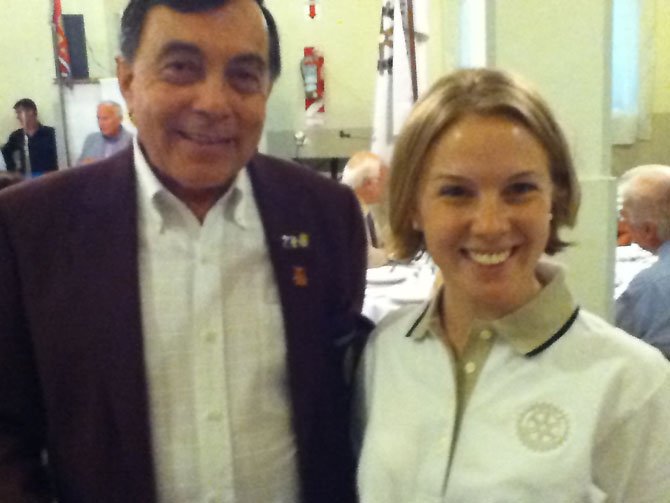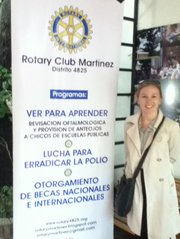 Lauren Conn, a Fairfax native and graduate of Fairfax High School and the University of William and Mary, will return from Argentina this summer to begin work supporting area youth. Conn has been offered a position with the Inter-American Development Bank here in Washington, D.C. The bank is the largest source of multilateral development financing and technical assistance in Latin America and the Caribbean aimed at reducing poverty and inequality. Lauren, a Rotary World Peace Fellow, will graduate this summer from the Universidad del Salvador in Buenos Aires, Argentina with a Master's Degree in International Relations with a concentration in Economics, Development and Cooperation. Conn was sponsored as a Rotary Peace Fellow by The Fairfax Rotary Club and The Rotary Foundation.
Verne Tuininga, Fairfax Rotary Club's International Service Chair said, "Investment in today's scholars, like Lauren, represent Rotary's faith that these promising students will become tomorrow's leaders and will make substantial contributions both to their communities and to the world."
Upon graduation, Rotary Peace Fellows work in a variety of areas, including grassroots and local non-governmental organizations, national governments, the military, law enforcement, and bilateral and international organizations such as the United Nations, World Bank, International Organization for Migration, and the Organization of American Studies. Graduates of the Rotary Peace Centers program also benefit from the support of a worldwide network of more than 500 alumni committed to building peace. Through the Rotary Peace Centers program and The Rotary Foundation, rotarians increase their effectiveness in promoting greater tolerance and cooperation among peoples, leading to world understanding and peace.
The Rotary Club of Fairfax meets on Mondays at 12:15 p.m. at the American Legion Hall on Oak Street in Fairfax City. For more information about the Rotary Club of Fairfax, visit the club's website at www.fairfaxrotary.org. Or email Rotary Club of Fairfax's Executive Director Irby N. Hollans, Jr., at ihollans@earthlink.net.