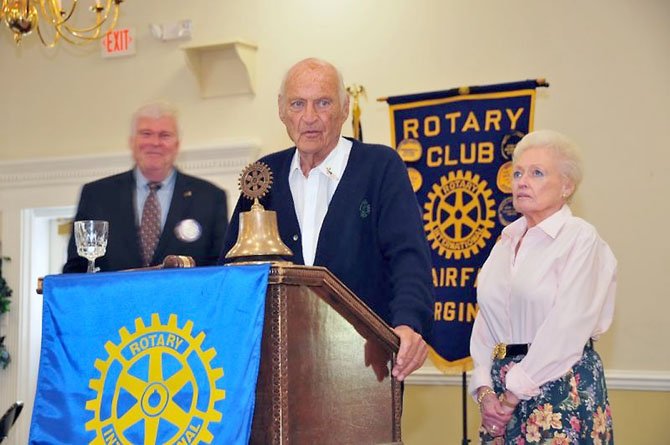 The Rotary Club of Fairfax honored Judge Barnard Fulton Jennings at a recent membership meeting attended by over 100 of its members and special guests. One by one, attendees paid tribute to a man who has served the people of Fairfax, the State of Virginia, and the United States for over seven decades. Introduced by his long-time family friend and Rotary Club Past President Bruce Jennings, Judge Jennings (known as Barney) was treated to a trip down "memory lane." 
Paul B. Ebert, Esq., Virginia's longest serving commonwealth's attorney, reminisced about the many cases he tried before Judge Jennings.
Warrenton, Virginia Attorney Blair D. Howard also spoke of Barney's successful legal career describing how after he became Chief Circuit Court Judge on the 19th Judicial Circuit, Barney was instrumental in the design and building of the Fairfax County Judicial Center. The building was dedicated on Sept. 11, 1982 and was named the Jennings Building. The Jennings Building remains today, as a portion of the more recently enlarged Fairfax County Judicial Center. 
Barney retired on Dec. 31, 1987, but for a number of subsequent years he served as a substitute judge and heard cases all over the state. The Virginia Supreme Court asks certain retired judges to try various cases in other jurisdictions where conflicts of interest involve local judges, or there are election issues or otherwise need independent judicial presence. Barney's goal was to hear a case in every county and jurisdiction in Virginia.  He came very close, hearing cases in 95 out of 100.  During this time, he also served on the Board of Directors of George Mason Bank, which subsequently merged with United Bank. 
Judge Jennings, past president and also a Paul Harris Fellow of the Rotary Club of Fairfax,  was joined during the tribute by his wife, Nancy Lee and their daughter Tricia Jennings Kincheloe and her husband, John. "It is an honor to have Judge Jennings and his family here with us today," said Paul Kelly, vice president of The Rotary Club of Fairfax. "He is truly a member of the greatest generation."
The Rotary Club of Fairfax is nonreligious and nonpolitical, and is open to every race, culture and creed. The members represent a cross-section of local business, professional, and community leaders. The Club is a member of Rotary International, an organization of business and professional persons united worldwide who provide humanitarian service, encourage high ethical standards in all vocations, and help build goodwill and peace in the world.  Rotary International's motto is "Service Above Self." The Rotary Club of Fairfax meets on Mondays at 12:15 p.m. at the American Legion Hall on Oak Street in Fairfax City. For more information about the Rotary Club of Fairfax, visit the club's website at www.fairfaxrotary.org. Or email Rotary Club of Fairfax's Executive Director Irby N. Hollans, Jr., at ihollans@earthlink.net.