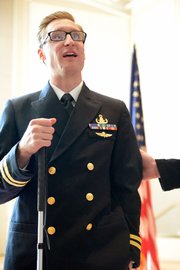 Navy Lieutenant Bradley Snyder wasn't able to run the Marine Corps marathon with his friends last fall. He was recovering from wounds sustained while serving in Afghanistan. So while they ran it without him, wearing "Brad Snyder" t-shirts, he made a plan. He said, "well alright, next year I'm going to run with you guys."
Running a marathon is no easy task, but for Lt. Snyder, it will be extra challenging. Snyder is blind. He lost both eyes when he stepped on an explosive device in Afghanistan while coming to the aid of a comrade last September. But while lying in the hospital during his recovery, he quickly made a decision to just move forward.
"I woke up in the hospital last September, and the doctor said well you're not going to be able to see anymore," he told middle school students at McLean's Langley School last week. "But I was able to really quickly just decide that, that wasn't going to be an impediment to me."


LT. SNYDER was invited to speak to middle school students at the Langley School as part of the school's service learning project. "Our big goal was for the students to recognize that service comes in all forms and fashions," said Ryan Jefferson, director of Student Life at the school. "And when you're dealt a pretty tough hand, what you do to persevere and overcome. It ultimately builds their character as citizens of Langley, and of our community."
The Langley School auditorium was uncharacteristically quiet for a room filled with nearly 140 sixth, seventh and eighth graders. They listened intently to Snyder's story.
Snyder told the students that the last thing he remembers seeing was his arms and legs. And before he lost his eyesight, he felt grateful that they were there. "If you decide to always put things into perspective, always maintain a positive attitude, there's no stopping you at all," he said.
Snyder, who currently lives and works in Baltimore, learned the meaning of service at a young age. His father would ask him to pick up trash off the ground that others had left behind. The lesson stuck. Years later he attended the U.S. Naval Academy. He graduated in 2006 and earned a billet to join special operations as an explosives ordinance officer. "We were constantly training," Snyder said. His team's job was to diffuse explosives. He deployed to Iraq. Then soon after returning, he deployed to Afghanistan where he was wounded while on patrol.
He told the students about the day-to-day challenges of being blind, such as shopping, cooking, even combing his hair. And he recounted funny stories about the many adjustments he has had to make. But, he said, he is learning to overcome many of the challenges. "I went through a pretty significant life change," he told the students. "But it's easy to put that into perspective because I have friends who lost a leg, or got killed, period. Who never even made it back. So it's all about putting it into perspective. And it was easy to do."
Snyder is currently serving in an unpaid internship for a small technology firm in Baltimore, while waiting for his medical retirement to process. Red Owl Analytics is a data analysis firm in Baltimore that has hired several wounded warriors. "There are a lot of characteristics of a special operations person that make him valuable to a corporation," Snyder said.


PART OF HIS NEW JOB is to demonstrate the value of wounded warriors in the corporate world.

Snyder recently qualified for the Paralympic national swim team. And when he's not working, he is training for a spot on the Paralympic Swim Team for London 2012. After the swim season is over, Snyder is planning to start training for the Marine Corps marathon.
The Langley School students were inspired by his story, and by his determination. "He showed us that we should always be brave, and not give up on our dreams," said sixth grader, Caroline Garcia.
The middle school students have been raising money all year through their weekly snack bar to donate to the wounded warrior fund. And they were proud to present Lt. Snyder with a check for $500 dollars for the fund.