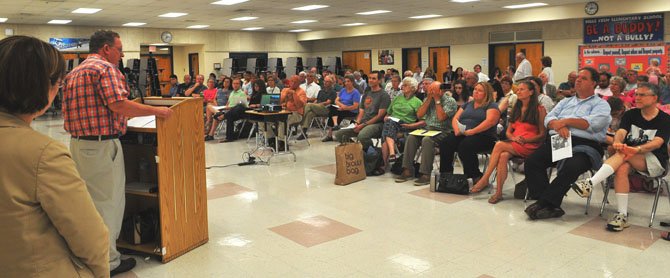 Mount Vernon — After a protracted community debate over the past two years on whether or not to establish an Off Leash Dog Park (OLDA) within Westgrove Park, the Fairfax County Park Authority, with the concurrence of the Planning Commission, recently approved an Interim Use OLDA at Westgrove Park for two years.
The genesis of the debate about the long-term vision for Westgrove Park was fostered by the community organization, Pumphouse Association for Canine Kindness (PACK). It was formed by dog owners to convince the county government to establish an Off Leash Dog Park at Westgrove Park. Until then some dog owners frequented the park to allow their pet dogs to run free. The problem was this violated the county's leash law and several dog owners were issued fines for violating the leash law.
This situation and the growing need for an area for local dog owners to exercise their dogs led to the formation of PACK, and a petition drive which collected approximately 500 signatures in support of creating an OLDA in Westgrove Park. It has been a natural resources park for many years, but without a master plan to establish its long term uses.
On Monday night, July 30, the Park Authority held a public hearing and kicked off the master planning process to determine the long-term uses of the park.
The interim use designation for an Off Leash Dog Park for two years that was granted by the Park Authority is unusual but not precedent setting. Park Authority spokeswoman Judith Peterson said that one other dog park has been established on an interim basis: the Mountain Run Off Leash Dog Area. Another interim use Park Authority designation has been a radio- controlled aircraft flying area (for model airplanes) in Poplar Ford Park. Both are located in the Sully Magisterial District and, after serving on an interim basis for one and two years respectively, both have now been converted to long-term use designations.
Approximately 150 people filled Belle View Elementary School to listen to the Park Authority staff brief them on the master planning process and take advantage of the community's opportunity to participate in influencing Park Authority staff on what will likely take about a year to complete. After taking into account the community's views, Park Authority staff will make public a draft report, allow time for analysis, and hold a more formal hearing in which individuals and organizations may testify at a public hearing or file their written comments on a draft plan. A final plan will then be developed and will be forwarded to the Park Authority Board for its review and vote.
Environmental protection advocates who support keeping the park in its natural state and oppose the off leash dog park continued to voice their views on keeping the park in its natural state. A number of residents also were present who voiced their support for establishing a permanent off leash dog park. In addition, some attendees recommended approving the park site to play rugby.
Other speakers wanted to maintain the park in its natural state and link it to Dyke Marsh immediately east of the park. A few expressed concern about the potential safety issues that might occur in the park at night. A discussion took place as to whether or not to lock the park at night, and the dangers of exiting onto Fort Hunt road. On the security issues a Fairfax County on-duty police officer said that he did not believe it would be useful to lock the gate at night. He also proposed prohibiting cars from making a left turn out of the Fort Hunt road exit to reduce the potential for a car accident. Still others spoke about the need to balance the use of Westgrove Park as both an off leash dog park (will take up about 10 percent of the total property) as well as a natural resource park area to be used as an educational experience for the public. Some speakers spoke out in support of promoting a relationship between the park and the adjacent Belle View Elementary School.
Local elected and appointed county officials in attendance included Supervisor Gerald Hyland, Planning Commissioner Earl Flanagan, Park Authority Board member Linwood Gorham and numerous Mount Vernon area community activists.
The large gathering at this early stage of the master planning process for Westgrove Park was an indicator of the strong feelings for the positions taken over the past two years by natural resources advocates and off leash dog park advocates.
Steven Nixon, president of PACK, whose organization will be the volunteer community group responsible for maintaining the OLDA, invited collaboration with natural resource advocates and essentially held out an olive branch to those who previously opposed the off leash dog park. He called on the Friends of Dyke Marsh, Friends of Westgrove Park and all others to work together with PACK to develop a park that meets the long-term needs and desires of everyone in the community.
Glenda Booth, a member of Friends of Dyke Marsh, spoke in behalf of her group and the National Audubon Society in recommending that there be an updated biological inventory; she pointed out that "the existing inventory was out of date — nine years old." Booth added that the Park Authority has a "historic bias favoring athletic fields and other active uses in the parks in the county." She called on the Park Authority to "correct the bias and do more to emphasize natural resources parks." Finally, calling attention to the Audubon Society's emphasis on protecting birds, she noted the existence of studies that demonstrate that the presence of dogs reduces the presence of nesting birds and results in a drop in bird counts where dogs frequent an area.
Booth also circulated a copy of a letter signed by Jon James, superintendent of the U.S. National Park Services' George Washington Memorial Parkway. In his letter to the Friends of Westgrove Park he supported actions to develop a "protected natural area open to the public" and urged the community and county government to promote connectivity between the Dyke Marsh wildlife management area and Westgrove Park.
Photo Gallery
Dogs Get Their Reward Photos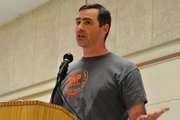 Click Photo for Flash